Thalis are the most dependable item on the menu of most restaurants, as they promises variety in lesser cost and a hearty and filling meal. The Indianthali consists of a rainbow meal and is not only satiating, but also highly nutritious, as it combines various grain breads with rice, vegetables, meats, curries and sweet, to make one wholesome package. No wonder then that most Mumbai restaurants have variedthalis on their menus.Also Read - Good News: Mumbai Relaxes Norms For Police Verification For Passport Applicants. Read Details HERE
We have compiled a list of best restaurants to enjoy athali at, across Mumbai. These include the best of authentic Gujarati, Rajasthani, Maharashtrian and typicalMalwanithalis. ALSO READ: Best Local Cuisine Restaurants of 2016: Top 10 local cuisine restaurants for the ultimate Indian foodie Also Read - Mocha Diye Muger Dal: Eat Your Way Through Bengal's History in Le Meridian Gurgaon
These are the top 10 places for thali enthusiasts in the city: Also Read - Dilli 6 Food Festival At Crowne Plaza Okhla Celebrates Women Power Wherein You Can Indulge Yourself With Mughal-Era Taste
1. Delhi Highway
This beautiful North Indian restaurant located in Times Square in Saki naka is done up in a Mughal style decor and their food is sumptuous enough to match. Thethali here consists of Paneer masala, cornpalak, methi mutter malai,pindi channa, dal makhani, raita, ghee rice,paneer kulcha, crispyjalebi, saffron flavored kheer and much more. Also unmissable is their dahi bhalla chat with crunchy papadi and fruits.
Cost for 2: Rs 1200
Where: A4, Ground Floor, B Wing, Times Square, Andheri East, Sakinaka, Mumbai
Timings: 11:30 AM to 3:30 PM, 7 PM to 11 PM
2. Samrat Restaurant
A very simply done restaurant in Churchgate, Samrat Restaurant has been a haunt by city dwellers as well as outsiders looking to eat good home-like food in Mumbai. The service here is quick and the the staff is quite hospitable. The vegetarianthali in this place comes with wheat phulkas (flat bread) withmethi malai, kaju curry, dal, raita, dahi bada, gulab jamun, sweet mango pulp, papad and rice with dry fruits. ALSO READ: 5 best vegetarian thali joints in Mumbai
Where: Ground Floor, Prem Court, JT Road, Churchgate, Mumbai
Timings: 12 Noon to 11 PM
Cost for 2: Rs 900 for two people
3. Panchvati Gaurav
Panchvati Gaurav has six outlets all over Mumbai and serves one of the best vegetarian thalis in Mumbai. Their thali is great value for money with one plate comprising of 4sabzis –paneer, aloo, chhole, beans;dal andkadhi; 3 types of breads –chapati, methi puri, rotla; 2 types of snacks – sandwichdhokla, kachori; 3chutneys, salad,papad, pickle; 3 types of sweets and 2 types of rice – plain rice,pulav andchhas.
Where: Andheri, Malad, Thane, Marine Lines, Kurla, Lower Parel
Timings: 12 Noon to 4 PM, 7 PM to 12 Midnight
Cost for 2: Rs 500
4. A. Rama Nayak's Udipi Shri Krishna Boarding
Nothing to boast of in the decor department, A. Rama's have their focus on what they put on your plate and it's always authentic and lip smacking South Indian fare. Their thalisare served on banana leaves and they have two types- one is the limited ones with choice items and the unlimited one. The thali consists of desi ghee, salt, cooked cabbage, mixsabzi, potatosubzi made in tomato,cumin and green chilly, puri,chappati, papad, curd, rice, ginger chhas, rasam and sambhar,as well as your choice of sweet. All this for just Rs 190!
Where: 1st Floor, LBS Market Building, Near Matunga Central Railway Station, Matunga East
Timings: 10:30 AM to 3 PM, 7 PM to 10 PM
Cost for 2: Rs 300
5. Konkan Katta
Konkan Katta is one of the best places to visit for authenticMalwani food, with the widest range of fishthalis in the city, besides chicken and muttonthalis. They have Pomfret Currythali, Surmayee Currythali, Bangda Curry Thali, Raas CurryThali, Prawns CurryThali, and many more. The curry is accompained with kokam drink, chapati, one dry vegetable, one curried vegetable and rice. The food is filling and tastes as good as home cooked food.
Where: 5, HEK Compound, Opposite Gyan Ashram, Mahakali Caves Road, Mahakali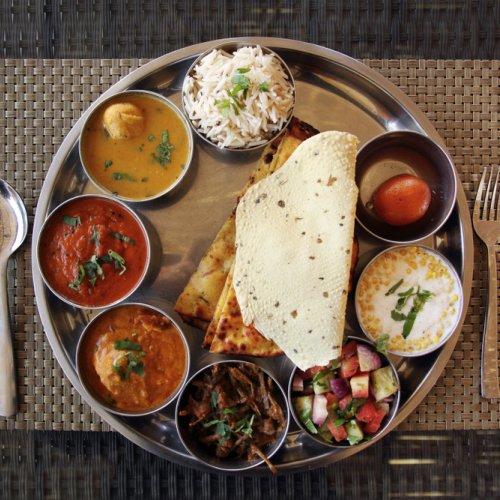 Timings: Today11 AM to 3 PM, 6 PM to 11 PM
Cost for 2: Rs 400
6. JP's Lunch Home
Simply done, clean and serviceable, JP's Lunch Home in Goregaon East is one of our most favoured places for a filling prawns and fishthali. The meal is economical and the flavours are carefully balanced, as if made to tailor for our palate. Our personal favourite is thepomfret thali. Theirsol kadi is one of the best we've ever tasted. Sea food lovers will love this one. ALSO READ: Best Breakfast places in Mumbai: Top 20 eateries from all over the city!
Where: Shop 1, Sahyagiri CHSL, Near Railway Station, Goregaon East
Timings: 12 Noon to 4 PM, 7 PM to 11:15 PM
Cost for 2: Rs 500
7. Pancham Puriwala
Pancham Puriwala has four kinds of vegetarian thalis- sada, special, deluxe and the Pancham thali, with the latter three being small variants of the first one. The Pancham Thali is our personal favourite and comes with five vegetables, fourpuris,kadhi, paneer pulao, dahi wada, sweet andchhas. The service is quick and efficient and the food is tasty and filling, as well as extremely economical.
Where: 8-10, Perin Nariman Street, Fort
Timings: 8 AM to 12 Midnight
Cost for 2: Rs 200
8. Pangat
The surmai thali at Pangat is worth a try for the spicy perfectly shallow fried rava coated surmai, served with spicy Malwani curry, rice, flat breads and salad. The bombil fry thali is equally good. In fact, Malwani cuisine is their specialty, so we recommend you go ahead and order up as much as your tummy can take. All dishes give you a great bang for your buck.
Where: Near Gokhale College, Gorai Road, Borivali West
Timings: 12 Noon to 3:30 PM, 7 PM to 11:30 PM (Closed on Mondays)
Cost for 2: Rs 650
9. Thackers
Thackers' special Gujarati thali is a treat for Gujarati food lovers and includes one kathol, two snacks (farsans), three vegetables, puri, phulka (wheat flat bread), kadhi, dal, rice, papad, chhas and pickle. Everything is lip smackingly delicious and the entire platter costs Rs 390. ALSO READ: Best Pizza Places in Mumbai for all budgets: Top 20 restaurants for pizza lovers
Where: 1st Floor, Birla Kreeda Kendra, Chowpatty
Timings:11:30 AM to 3 PM, 7 PM to 11 PM
Cost for 2: Rs 600
10. Chetana
Chetana is one of the best places to get a Rajasthani thali at. TheirDaal Baati Thali includes Rotis, baati, choorma, bajra rotla, jowar rotis, steamed rice,dal khichdi, gatte ki subzi, palak rice,jaljeera, chhas amongst other things. Their regular thali serves Gujarati food, and they also have the Maharashtrianthali as well as something called the holiday special thali,which is basically the regular thali with additional breads and sweets. Their jalebisand puran polisare highly recommended.
Where: 34, K Dubash Marg, Kala Ghoda, Fort
Timings:12:30 PM to 11 PM
Cost for 2: Rs 800
(Picture Credits: Zomato)