DJI will soon introduce two Mavic 3 drones and WinFuture scooped up the specs and images early. A sequel to the DJI Action camera is also coming with a modular design. The company had three events on the calendar – October 20 brought the Ronin 4D, there's an event for later today and one for November 5. That last one is when the drones are getting unveiled.
Update: The camera is official, here are the official details.
DJI Mavic 3 and 3 Cine
Here is an early look at the DJI Mavic 3 and the Cine version. They are mostly the same in that they both feature dual cameras – one wide and one telephoto. The main camera features a large 4/3" sensor with 20 MP resolution, f/2.8 aperture and 84° field of view. This is an upgrade over the DJI Mavic 2 Pro, which had a 1" sensor.
DJI Mavic 3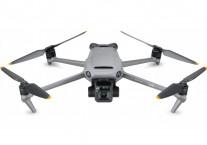 The 2 Pro is from 2018 and was unveiled alongside the Mavic 2 Zoom. But there is no Pro this year and no zoom either, because the base Mavic 3 will be equipped with a 12 MP tele camera with f/4.4 aperture and 15° FoV.
The main camera can record 5.1K videos at 50 fps, 4K videos at 120 fps and 1080p at 200 fps. The DJI Mavic 3 Cine drone adds some video-focused features, starting with support for Apple's ProRes 422 HQ format (this is hardware accelerated on the new iPhones and new MacBooks, by the way).
The other difference is that the Cine comes with 1 TB of internal storage. Yes, oneterabyte and presumably they are faster than microSD cards. Speaking of, the regular Mavic 3 has only 8 GB (gigabytes) of storage, so you may need to use a microSD card. There's a slot on both drones with support for up to 2 TB additional storage (not that such cards exist yet).
DJI Mavic 3 Cine
The Mavic 3 will be powered by a 5,000 mAh (77 Whr) battery that gives it up to 46 minutes of flight time. For comparison, the Mavic 2 Pro could only last 31 minutes. Charging will be done with a 65W fast charger. In terms of range, this 900g drone can go up to 6 km in altitude and up to 30 km away rom you.
Mavic 3 Fly More Combo
DJI will allegedly offer a plain Mavic 3 bundle, a Fly More Combo and a Cine Premium Bundle. There is no word on the prices for those yet.
Source (in German)