It claims to be fancy, it claims to be swanky. It also boasts of a Jacuzzi and a rooftop gym in its first Indian hub, launched recently in Bengaluru in July 2017. This is WeWork India, the Indian arm of the New York-based coworking unicorn WeWork, launched in association with Jitu Virwani's Embassy Group. WeWork India is currently headed by Jitu's son, Karan Virwani, following over the 25 years of family legacy in real estate sector, and determined to change the face of coworking startups in the country currently pushing innovation and entrepreneurship.
In November 2013, a survey was conducted wherein it was discovered that Indians, in general, were extremely overworked. The things have not changed much since then. The work is endless and the employers are demanding. Plus, the shortage of available office space has confined the cubicles to a much smaller area. In the twenty-first century, this has led to the rise of many coworking spaces both in the west and the developing nation such as India.
However, WeWork India team and Karan Virwani have a more nuanced direction in mind for the modern Indian workforce. "WeWork India is actually a culmination of a lot of events, all of which happened at around the same time," says Karan Virwani, positioned as the Director of WeWork India and the man running the show. With WeWork India, he is further looking to tap the real estate and coworking opportunity in a country poised to be the home to 11500 startups by 2020.
In conversation with Inc42, Karan Virwani takes us through the nitty-gritty of the WeWork India vision, solving for the urban real estate office woes and inking a deal with WeWork, a startup that is now valued at $16 Bn and has a presence in almost 70 countries and 47 cities in a span of nine years.
WeWork India Origin Story: A Lease Agreement That Inked Into A Partnership
When Karan Virwani joined his family business (Embassy Group) a few years ago, one construction project which grabbed his attention was a boutique mall, Embassy Galaxy on Residency Road, Bengaluru. At that point, the company itself was catering to large outfits, leasing up to 500K sq.ft. for their operations.
As prior to joining, Karan Virwani had already spent time interacting with startups and small businesses, he had the understanding that their op-ex was often in a shambles. "There was no one organised space for these outfits to come together and collaborate with each other. In fact, these teams worked out of rented apartments, because it was the cheapest way to curb expenses," he added.
Thus, he wanted to branch the traditional family business and provide a new age, flexible solution to the Indian millennial employee. And as he shared, he found the newly constructed site apt for his first coworking project and started toying with the idea of entering the 'shared office space' segment. It was in 2015 when Karan reached out to New York-based WeWork for a partnership, which coincidently was also looking for an entry in India.
As Karan Virwani shares, "Our initial plan was to lease the building to WeWork and have them do all the heavy lifting. But as I researched the shared office space industry, I realised this was the obvious next step for Embassy as well."
Thus, what was a simple lease agreement turned into a full-fledged partnership called WeWork India, whereEmbassy Group also invested an initial $25 Mn to facilitate the initial working capital.According to Karan Virwani, the deal was hammered for almost a year by a two-member team and the company was formalised in 2016. It took a little longer to launch the first hub (in July 2017), which is 140K sq.ft. and boasts of a 2,200 member capacity with 90% occupancy rate. But the second hub took just a month and was live in Mumbai in September 2017 with a seating capacity of 1900+ sprawled over 1.9 Lakh sq. ft.
Karan Virwani On WeWork India Philosophy And Challenges Faced
While the business end of the deal was relatively smooth, WeWork India did face its share of challenges. The first and foremost being, making the people understand, that WeWork India is not 'JUST' a co-working space.
As shared by Karan, "We are not a coworking space, where everyone shares the Internet and a bunch of common entities work together." But he compares the modern day work environment with traditional offices. "When you're in a traditional environment in a large organisation, you're in a silo. It's the same boss, same friends, and the same conversation. There is no room for dynamism."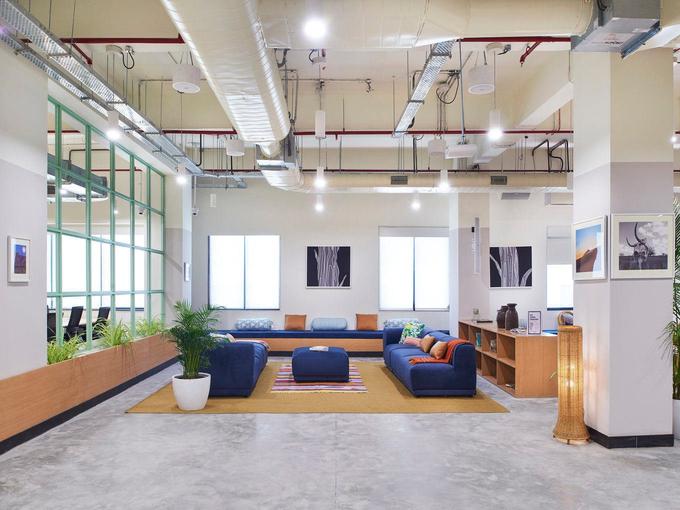 WeWork India's philosophy is all about catering to the modern worker who has grown up understanding the value of the sharing economy (Uber, Airbnb etc.), is constantly mobile and not stuck to a particular work environment. It's a 'giving economy,' as per Karan. "WeWork gives people a space to create more ideas that transform lives beyond work. But all of it leads back to the company, increasing productivity and teamwork. We are a community company for anyone who sees value in this progression and is adapting to it."
Further,getting prospective members to understand and see this work philosophy in action for WeWork India was another biggest challengeencountered by the team. "This kind of value is intangible, can't put a price tag on it, can you? Portraying and showcasing this value has been our biggest challenge when we first entered the space."
Setting price points at different locations is an issue too when it comes to an emerging economy like India,where users expect more bang for the buck for the smallest things and the spending chart differs state from state. For instance, they kept the Bengaluru hub options starting from INR 9000, while for the Mumbai hub, the per-seat cost comes at INR 18K.
When asked about the almost doubling of price points, Karan is candid as he admits that these are purely market-driven decisions. "Mumbai Hub (BKC) in general is a more premium area than Bengaluru locations of Residency Road or Whitefield. But the hub in Andheri East, Mumbai which we are aiming to launch in January 2018 will have the same price point as Bengaluru."
Leveraging The Global Community Of WeWork For Local Spaces In India
The global coworking unicorn WeWork aims to offer a physical+digital experience thatconnects each individual hub to its145K global member community. It does so through the exclusive WeWork app which is available on iOS and Android and is, as Karan describes, 'our social feed' that gets updated hourly. This helps the coworking space members to build relationships outside of the little silos occupied by individual offices and feeds into the extracurricular activities of the other members.
This is a key differentiator that WeWork India is banking on as it takes on the other, more established names."70% of our businesses end up doing business with each other,breaking the barrier of the small business looking to go global, especially for Indian startups. The app is a seamless platform where products and services are exchanged regularly across the world." Karan even claims that this kind of collaboration and connection helps the member companies grow about 30% faster than other businesses.
But not all the relationships are work-related or project requests. Karan Virwani also mentions weekly yoga sessions for members, and hang out parties, as well as Happy Hours in the Bengaluru hub as a few extracurricular activities that are designed to improve the work-life balance of their members, and thus, provide a unique and holistic work experience.
Karan shares a few more facts to back up the claim. According to him, the average time globally to fill up a coworking hub is about 12 months, but WeWork India's Bengaluru hub was pre-sold to about 70% occupancy and within a month of launch has hit 90%. In Mumbai's case, the pre-sale occupancy rate was 60%. He also claims that larger companies who use shared office space with WeWork India can save up to 155-40% of their cap-ex and op-ex instead of going solo.
Walking Through The Coworking Startups Maze In India
91springboard. Innov8. Awfis. Bangalore Alpha Lab. Investopad. Government of India-sanctioned Nasscom 10,000 Startups' Startup Warehouse. These are but a few of the coworking spaces actively operating in India. Some of them such as Innov8, Awfis, 91springboard have received millions in funding and have managed to carve a name for themselves by expanding pan India and having a member community that runs into tens of thousands. Then there are more recent names such asFundTonic's coworking space, Good Alpha Labs coworking, who have taken the plunge to build a collaborative ecosystem for the next generation employers and entrepreneurs.
According to Karan Virwani, the evolution from a traditional office environment to a more mobile workspace, has grown exponentially. This, coupled with increasing tech and Internet penetration has created a new kind of middle class that legitimises small business and startup entrepreneurs, the concept of freelancing and relinquishing control over operational aspects of running a business venture. The workers are more evolved, so their expectations are more evolved.
Then, there is the state of the real estate industry. While urban development is fast reaching a point of oversaturation, Karan asserts that there is still a lack of quality space in the country. This supply versus demand needs to be corrected. For instance, Bengaluru has a reallylow vacancy rate of about4%. The same is the case with smaller cities such as Hyderabad, Pune where the commercial office space market is fairly good.
"It is a landlord's market at the moment, which is what we are capitalising on," says Karan Virwani. He also mentions the 'Trump Effect,' a recent phenomenon, where companies are taking longer to make a decision regarding operation expenses. Where bigger companies who used to spend around $1 Bn on rent alone, need to remain flexible in order to pare down costs further. "Coworking spaces and shared office spaces help their clients remain flexible and provide no drain on their cap-ex and op-ex. It's a win-win."
Seven Spaces In Seven Months: The WeWork India Future Roadmap
WeWork has firmly focussed on the urban millennial worker. More and more, these workers are arriving from non-urbane spaces so non-traditional offices have to tread a fine line between economy and aesthetics. Perhaps, this is whyWeWork has chosen to target the uber metro cities of Delhi, Mumbai, and Bengaluru which, in Karan's opinion, are still not saturated.
As he shared, Mumbai will have one more WeWork India space, which will open in January 2018 and accommodate 800 desks. Bengaluru will have two more spaces, a 700-seater in Koramangala and a 1688-seater in Embassy Golf Links – Domlur.These spaces are expected to be launched by November 2017.
Further, December 2017 and January 2018 will see the first space being launched in Delhi. Karan divulges that it will be similar to the Bengaluru office and will cost anywhere between INR 18,000-20,000 for a private office. He also shares that they are already in the process of finalising another space in Gurugram, to cater to the robust Indian startup ecosystem that has been spawned in the North India belt.
One of the biggest plans that WeWork India has set in motion is to invest up to $200 Mn over the next five years to strengthen their position in the non-traditional office space in the country. As a coworking startup, this is certainly a big target to achieve. "We want to hit a lot of internal targets aggressively before we think of fundraising." As Karan Virwani concludes, "We believe that we have a particular value proposition and its potential to solve the urban office problem. And we put our money where our mouth is."
[Edited by Meha Agarwal]