However, the price of the R7 will be a sticking point. It retails on the Chinese manufacturer's online store for $400/AU$449 (this converts to about £260), which is expensive for a phone with midrange specs. If you're willing to spend slightly more, flagship phones such asZTE's Axon Proare available, while cheaper phones such as theOne Plus 2or theXiaomi Mi Noteoffer similar designs.
Design and build
The Oppo R7 is a looker. While the phone bears a passing resemblance to Samsung's new Galaxy range, Oppo has made the R7 its own. The metal band around the sides accents the look, and it's just wide enough to contain the audio jack and Micro-USB ports. That said, unlike phones with a smoother edge, it isn't comfortable to grip. The slightly annoying feeling of a metal edge digging into your palm doesn't make for the most pleasant of holds.
The R7's 5-inch AMOLED display has a full-HD 1,920x1,080-pixel resolution. The rear is an aluminum-magnesium alloy, and the metal gives it a smooth, luxurious feel. The 13-megapixel camera is located at the top left.
Oppo typically features physical touch-sensitive menu keys, and the R7 is no different. The power button is found on the left side and the volume rockers are on the right. If you're worried the buttons are too small for its 6.3mm frame, fret not -- you'll have no issues here. In fact, I quite like the clickiness of the keys. That said, the power button placement can be a bit annoying as you'll sometimes hit it when picking up the phone or taking pictures in landscape mode.
Lastly, you'll find the dual-SIM 4G slots located above the volume keys. The microSD SIM slot also doubles up as a microSD card slot with support for 128GB of external storage.
Hardware
The Oppo R7 is a midrange phone, so it's no surprise that the specs aren't as impressive as flagship phones. It's powered by Qualcomm's Snapdragon 615 octa-core processor, which, based on previous experience with similar devices, is capable of offering a smooth performance. You'll be able to run games and other resource-intensive apps just fine, but don't expect anything too impressive.
Other specs include 16GB of storage, 3GB of RAM and 13-megapixel rear and 8-megapixel front cameras. While the 2,320mAh battery is small, the phone features fast-charging technology. Oppo claims you can charge to 75 percent in a mere 30 minutes, and in testing it came close -- I was able to hit 72 percent in the stipulated time.
If you need 4G support, there are three different versions of the phone. The international version should work on LTE networks such as Three and EE. In Australia, the R7 is an Optus exclusive if you're buying from a carrier, but the unlocked version from the Oppo website will work on other networks such as Telstra. In the US, it can get 4G on both T-Mobile and AT&T.
Software and apps
While the Oppo R7 runs on the older KitKat version of Android, the phone uses Oppo's Android-based Color OS. So I'm not faulting this phone for running KitKat, since you won't see much stock Android on it.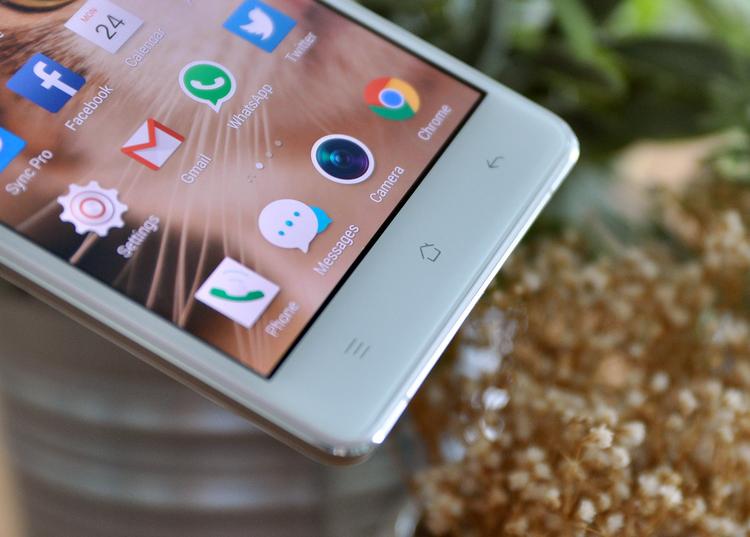 Oppo's customized launcher comes packed with signature Oppo features including gesture control. For example, you can activate the camera by drawing an O, or you can turn the music on by swiping two fingers downwards while the screen is off. When the screen is on, you can pinch close with multiple fingers to turn on the camera, or slide three fingers up and down to take a screenshot.
The phone has a range of themes and gives you the option to change the visual effect for opening, closing and switching apps. Oppo has also included backup features and an O-Cloud sync for your contacts and messages, though this only seems to be compatible with other Oppo phones. If you're wondering where the app drawer is, it's not there. Like iOS, Color OS puts the apps right on the phone's home screen. That said, features such as control buttons -- to let you change your Wi-Fi and data settings, put the phone into airplane mode and so on -- are handily located on the notification pull-down menu.
On many large screen smartphones, the user interface isn't always optimized for the larger display, and some icons can appear too large and look awkward. It's definitely a pet peeve of mine. The R7's screen, however, isn't big enough that this would be a problem, and the icons appear to fit the screen well.
Camera and video
The R7's camera app has a pretty simple layout. There's a big shutter button at the bottom, and when holding the phone in a landscape position, you can filter your photos by tapping the button at the top-left corner. Doing this will give you access to a bunch of filters and features, such as Ultra HD (which stitches multiple pictures into one for a larger image) and other standard modes such as panorama and HDR. There's a cool GIF animation creator, which lets you shoot a movable image like a video, but without sound. You can also reverse the motion of the capture to spice things up.
If the default modes aren't enough, the R7 also has a camera shop where you can download modules such as Expert mode, which lets you control the camera's shutter, ISO, exposure and focus. Or, if you're feeling up to it, you can shoot raw.
Oppo has historically placed a lot of emphasis on its camera features, and the 13-megapixel shooter of the R7 seems to handle itself well. Pictures look vibrant with easily visible fine details and bright colors and hues. It seems to struggle a little in low-light shots, but that's no surprise since it doesn't have optical image stabilization, which would help with the slower shutter speeds needed for low-light pictures. The front camera is pretty decent as well, but it only manages to focus on the center face when taking selfies, so anyone off-center will look a tad blurry.
Overall, I came away impressed with how the pictures turned out. If you want to take good pictures but don't necessarily need something top-of-the-line, the R7's cameras will meet your needs. Check out the sample shots below.
Performance
Equipped with Qualcomm's Snapdragon 615 octa-core processor, the R7 is capable of delivering smooth performance for normal use, and the 3GB RAM gives you the oomph you'll need for multitasking. You won't have to reload apps when switching between them, which is sometimes the case with phones that have less RAM. I found the phone smooth and responsive, and I didn't see any of the lag issues that I encountered in the R5.
Compared with other Snapdragon 615 phones that we've tested, such as the Xiaomi Mi 4i or the Alcatel OneTouch Idol 3, the Oppo R7 holds up well and gets similar scores on our testing. This puts its performance squarely in the middle and lower tiers when compared with the flagships.
Battery life
With only a 2,320mAh battery, the Oppo R7 falls behind its competition when it comes to staying power. Sure, if you're carrying around the Oppo charger, you don't have to worry too much -- 30 minutes is enough to get you back up to 75 percent. But you'll probably run out of power before the end of the day if you're a heavy user who continuously fiddles with your smartphone.
In our CNET Labs video test, the Oppo R7 lasted just 9 hours and 5 minutes, which isn't very good. In comparison, the Xiaomi Mi 4i chugged along fine for more than 13 hours. But, to be fair, that phone has a larger 3,000mAh battery.
Call quality and data speeds
I had no trouble with the R7's reception or making calls. My calling partner on the other end could hear me, and there was none of the odd static or buzzing usually found on phones with terrible microphones. The speaker quality is also pretty loud for the phone's size, but may be hard to hear while in a crowded public space. The vibration is strong, though, and you'll definitely feel the phone buzzing in your pocket.
I tested the phone's 4G capabilities in Singapore on SingTel's 4G network, and data speeds were on par with other phones in this region. The phone achieved around a 99.44Mbps download speed and a 35.89Mbps upload speed at its highest, though your results will depend on your carrier's network quality.
Conclusion
The Oppo R7 packs midrange performance into beautiful hardware, but the price will hold it back. Xiaomi'sMi 4icomes in at almost half the price of the $400 (US) R7 and offers similar hardware and design, though it comes clad in plastic instead of premium metal.
That said, the R7 does have one advantage over Xiaomi -- it's available in the US, UK and Australia through direct sales from its website, so it's easier to buy globally. But if you're willing to pay a bit more, higher-end flagship phones from competitors such as theHuawei Ascend P7or theZTE Axon Promay be a better deal. For just a little bit more cash, these phones offer much better performance while almost matching the R7's good looks.