If you are not living in the stone age, surely you must know about the current state of privacy and security. Whether it's password theft or loss or personal info, pretty much everything is under scanner these days.
But then, protecting property or assets — both digital and otherwise — falls eventually on the owner. And if you are the owner of the Samsung Galaxy J7 Max, then rest assured that the Galaxy J7 Max holds more in its kitty other than the conventional security features.
So, let's do a quick roundup on how to protect apps in Samsung Galaxy J7 Max.
Also See:Top 9 Samsung Galaxy J7 Max Features You Shouldn't Miss
1. Hide Apps
The first and the foremost method includes hiding the apps from plain sight. Unlike other devices, where you have to go and edit the app's icon or name or take the help of a third-party launcher app, the Galaxy J7 Max has a built-in feature to hide apps.
All you have to do is pinch in on the home screen and selectHome screen settings. Once there, tap onHide apps and select the appropriate ones. Tap on Apply and you're done.
If you have nosy people or thieves trying to steal your information, then they will have a hard time locating the app in question.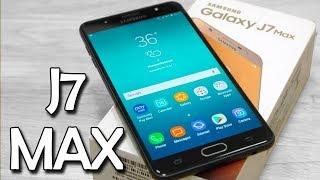 However, this method comes with a certain drawback — the app will still show up in the search results when you search for it, using the app search box.
2. Lock and Mask Apps
The second method is to lock or mask the apps. This feature is a notch above the flawedhide apps feature. To enable this, go to theAdvanced settings and selectLock and Mask Apps.
This feature has two individual features — lock apps and mask apps. While the former locks up an app with a pattern, PIN, password or a fingerprint, the latter hides the app (even from the search result) and even blocks its notifications.
All you have to do is set up the lock type and choose the apps.
So it's simple. The first method will work just like any other app-locker — enter the password or PIN and get access to the app.
It's the later, mask app, that's a tad tricky. Not only it blocks the notifications for the chosen apps, it also hides the app from everywhere. So, if you want to use a masked app, you'll have to unmask it first and then proceed to use it.
3. Secure Folder
The last method is the Samsung Secure Folder. Secure Folder made its first appearance in the Samsung Galaxy S7 and has since been released in quite a few phones including the flagship Galaxy S8 or the mid-range C7 Pro.
Secure folder creates a separate entity within the phone, which means that any files or apps inside this environment is encrypted and can't be accessed outside.
So, if you want to secure your Gallery pictures or the Facebook and WhatsApp apps, all you need is a Samsung account.
Start off by creating your Samsung account and using it to log in to the Secure Folder app. Once done, set up the lock type and head off to add your choice of apps to it.
You can also choose to customize notifications for these locked apps. What's more, you can even choose when and how the secure folder locks itself up.
Which One Is It?
So, which of these methods will be your weapon of choice? If you ask me, locking apps seem more practical, considering that you don't have to do anything much other than entering the lock pattern or PIN. But then, the choice eventually depends on what information you store on your phone.
See Next: 7 Smartphone Battery Myths You Should Stop Believing