New England Patriots
This is almosttoo obvious. A short receiver who has been dominant from the slot? We know Bill Belichick loves taking guys like that. Wes Welker, Julian Edelman, Danny Amendola… the list goes on. And—whaddya know—the Patriots need help at the receiver position this year.
New England already has a guy who can stretch the field on the outside in Nelson Agholor, who remains under contract for the 2022 season. They're more likely to spend their first-round pick upgrading their defense rather than using it to take one of the top receivers in this class anyway.
Meanwhile, their other two starting receivers, Kendrick Bourne and Jakobi Meyers, have shared time splitting between the slot and the Z-receiver position. The former showed a lot of promise in his first season with the Patriots; the latter is a restricted free agent. And further down the depth chart, 2019 first-rounder N'Keal Harry has been a disappointment.
Bringing in Philips as a mid-round investment would lessen the blow of Meyers' departure in free agency, should he leave. The UCLA product would also give the Patriots a true slot receiver that would thrive underneath and have the ability to get open quickly and often. His skill set would make him a strong weapon to add to quarterback Mac Jones' arsenal.
Green Bay Packers
With the way things look right now, the Packers are really going to need some help at the receiver position. Green Bay is most likely going to franchise-tag star receiver Davante Adams, but with Aaron Rodgers' possible (likely?) departure and the team's cap situation, his time with the Packers may also be coming to an end.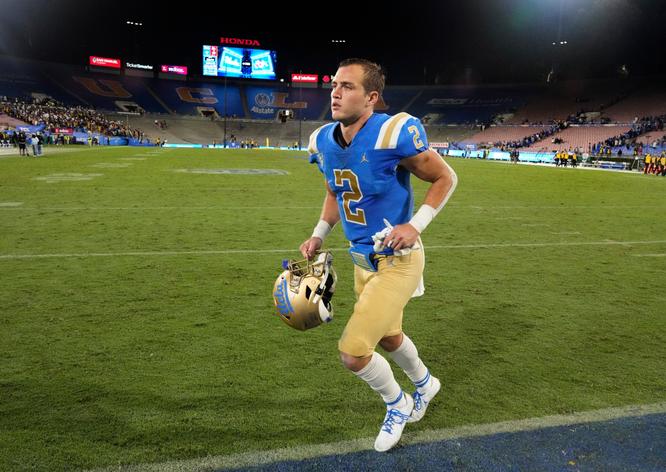 Not only is Adams' future in Green Bay in question, but the Packers have needed some help at the receiver position for a while. Allen Lazard was solid this year and Marquez Valdes-Scantling showed promise when he was healthy, but Valdes-Scantling is headed to unrestricted free agency while Lazard is a restricted free agent. Furthermore, Green Bay's true slot guy, Randall Cobb, only returned this year at Rodgers' request. If the quarterback leaves, Cobb is probably gone too.
Whether Rodgers stays or not, the one constant that remains is Green Bay's need to upgrade their offensive skill pieces. With so many pending free agents and the pressing needs that already exist at the wide receiver position, it wouldn't surprise me to see the Packers double up on receivers in the draft.
Philips would be an excellent second option at receiver, likely available in the third round. He also provides a direct replacement for Cobb—if he does get cut this offseason—and gives whoever the Packers' 2022 starting quarterback is a great additional weapon.
Indianapolis Colts
The Colts could really use an upgrade at wide receiver. Outside of Michael Pittman Jr., who had more than 1,000 yards in an incredible breakout season, no other Indianapolis receiver had even 400 yards. That's insane! Obviously, the team relied heavily on Jonathan Taylor for much of their offensive production this season and theirquarterback situation is very questionable heading into next year. Still, the lack of any production from most of their receiving weapons is unacceptable.
Indianapolis doesn't have a first-round pick this year (thanks, Carson Wentz), so that leaves them outside of the running for one of the top receivers in this class. Philips could be a really nice addition to this Colts team. Their current slot guy, Zach Pascal, was second on the team with—wait for it—384 receiving yards, but he's slated to hit free agency this offseason. Philips could be a nice replacement in the slot and possibly add more production value from the position.
Especially given last year's lack of yardage from most receivers and T.Y. Hilton potentially headed to retirement, Indianapolis (and Wentz) could use all the help it can get.
Chicago Bears
With Allen Robinson set to hit free agency after a disappointing year on the franchise tag, it would behoove the Bears to get receiver help. Chicago should be looking to add pass-catching weapons anyway, given they have a young quarterback that they plan to build around in this and future offseasons.
Like Indianapolis, the Bears don't have a first-round pick in this year's draft. Their second-round pick may be better suited to building up the offensive line or even as a trade piece for more draft capital. That would leave them in prime position to get that receiver help they need in the third round, and Philips would be a great choice for them there.
Not only does he add help at the position, but he gives the Bears a true slot receiver. Chicago spent most of the 2021 season rotating players—including Robinson—in and out of the slot. With the Shrine Bowl standout filling that role full-time, the Bears get a guy who can thrive underneath and give Justin Fields a young, productive weapon at receiver.
New York Jets
The Jets have had a really stable slot receiver for the past three years after they signed Jamison Crowder in free agency ahead of the 2019 season. At times, Crowder seemed like the sole bright spot of the New York offense, and he put up some of his best numbers in three years with the Jets. But Crowder is an unrestricted free agent this offseason and will be 29 by the start of next season. Braxton Berrios is a pending free agent as well.
Like the Bears, the Jets will want to keep building around their young quarterback. And, also like the Bears, they'll likely spend some of their early draft picks building their offensive line rather than focusing on offensive weapons. New York has four picks in the first two rounds, and some of those will likely go into upgrading the offensive line, pass rush, and secondary.
If the Jets wait until the third round to get receiver help, Philips is their guy. He'd immediately replace Crowder/Berrios as the Jets' true slot receiver, and he's a young weapon that can build chemistry with Wilson as their careers continue.