MUMBAI:Anupama and Kinjal return Shah house from doctor's appointment. Rakhi says she was getting bored waiting for them and defeated would be grandfather Vanraj in a table tennis game. She asks Kinjal why did she go to Shah's cheap and local doctor. Baa and her argument starts. Anu stops her. Kinjal tells Rakhi that her doctor is good and she had informed in the moring itself that she is uncomfortable with a male doctor. Baa says local doctor wo't be having 5 star facilities. Baa and her argument start again. Kinjal asks her to stop coming there and create a drama if she really cares for her. Rakhi says she just comes here to see her daughter and would grandchild and is not interested in seeing Shah family's faces. Baa comments grandfather doesn't even show his face, but grandmother barges in often. She gets emotional and tels Anu she wants to be with her daughter and support h er, doesn't she have that right on her daughter. Anu says she has complete right on her daughter. Baa asks her to stop her speech and inform what doctor said. Anu reveals about Kinjal's pregnancy-related complications. Baa says its not a big deal. Rakhi says even she had pregnancy-related complications. Bapuji says father cannot hold a baby for 2 hours, but a mother keeps it in her womb for 9 months, hats off to mothers. Kinjal asks Rakhi to go home now. Rakhi says she will return tomorrow. Baa says she may have to buy been/flute to control nagin. Rakhi says she can, but nobody can control her. She taunts Vanraj next and leaves. Kinjal asks Anu to go now. Baa reminds Anu that Kinjal needs her the most at this time. Anu says she never backed off from her responsibilities. She then gives moral gyaan to Toshu on the importance of husband's responsibility, insists him to reconcile with Kinjal, and warns him if something happens to Kinjal, she will not spare her. Vanraj also warns Toshu that he will not support her this time and Toshu should take good care of Kinjal.
Alos Read: Anupama 9th March 2022 Written Episode Update: Rakhi Shares Important News With Vanraj
Anuj eagerly waits for Anu. Samar's bike breaks down while dropiping Anu home. Anu asks him to hurry up as Anuj must be waiting for her. Samar asks her not to make him wait for too long. She rushes home in an auto. Anuj says she shouldn't make him wait so long. She starts crying and apologizes him. He consoles her and says he knows she belongs to him now completely and understands her. She says he is understand and it doesn't mean she should take him for granted and continues that he is the world's best human who doesn't show his right, but he has the most right on her; she is busy in something or the other always and doesn't give time to him. Anuj says that makes her Anupama and he loves her more when he sees that she keeps her happiness aside for her family's happiness; people say they keep family first, but she truly follows it; she stayed in his house for Mukku and became her mother, now she has to become Kinjal's mother and he loves her the way she is, etc. Anu asks if he is not angry on her. She says he is not but surely will if she continues crying.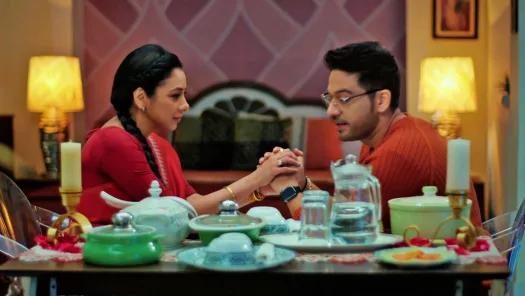 Anuj serves dinner to Anu and starts a dinner date with her. Tu Shayar Hai Main Teri Shayari.. song plays in the background. They are about to start eating when Anu gets Vanraj's call informing about Kinjal's emergency. Anuj says he will take her there, makes roti rolls for them, and drops her in auto. Anu feels sorry and says her sorry is not enough for him. He says candle light dinner dates are thing of the past, now its auto ride dinner date. He makes her feel comfortable and drops her outside Shah house.
She rushes to Kinjal. Kinjal says she is having stomach pain and is worried for her baby. Anu says mild stomachache is common and they should worry if its severe. Kinjal says okay. Baa says she didn't listen to her and calmed down when Anu said same. Anu informs doctor about Kinjal's situation and tells Kinjal that doctor said its normal and she need not worry. Toshu walks out and informs Vanraj, Samar, and Bapuji that Kinjal is fine. Vanraj says he was worried, but Anu comforted Kinjal. Bapuji says when a kid is hurt, he/she wants mother to be around him/her. Anu asks Knjal to rest and tries to leave. Kinjal holds her sari pallu.
Precap: Vanraj asks Anu to stay at Shah house tillKinjal's anxiety issues subside. Anu informs Anuj who holds her hand and walks away, stunning Vanraj.
Update Credit to: MA
also Read: Anupama 8th March 2022 Written Episode Update: Samar's Advice To Anupama