The Cincinnati Cyclones of the ECHL paid homage to their coach and the city's iconic gastronomic delicacy as part of "Cincinnati Coneys Night" against the Wheeling Nailers on Friday.
The Buffalo Sabres' ECHL affiliate became the "Coneys" for the night, wore specialty jerseys and gave the first 3,000 fans at the game Payne bobbleheads featuring him with a plateful of Skyline Chili coneys - hot dogs smothered in chili, mustard, diced onions and a mound of shredded cheddar cheese.
"It's exciting," Payne said. "I never had one before, so it's exciting to see it come to life. I'm getting a lot of messages requesting one, so I don't know I have enough to give around, but it's exciting."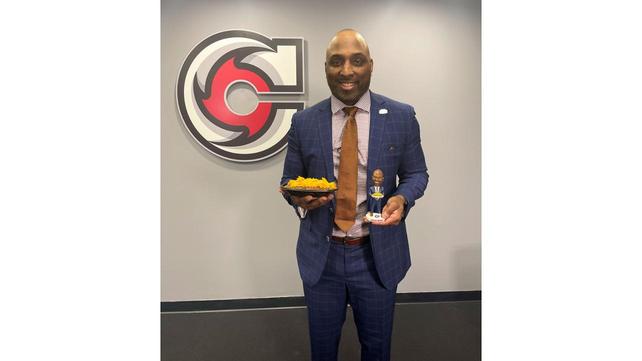 Tweet from @CincyCyclones: Do you think @JasonPayne67 cuts or twirls?The first 3,000 fans in the building next Friday will be add this @Skyline_Chili bobblehead to their collection!🎟 https://t.co/966SVYCrFw pic.twitter.com/F7uuyTKnB9
Payne is in his first season as Cincinnati's coach and currently the only Black coach leading a team in men's professional hockey in North America. He had a 14-year career as a forward in six different minor leagues and 25 teams from 1995 to 2009. He scored 83 points (36 goals, 47 assists) in 584 games.
"I wish I had a bobblehead when I was playing, for sure" Payne said. "But now that we're here doing it, it's an honor."
Cincinnati traded their traditional black, red and white jerseys for blue, yellow and white ones with an outline of the city's skyline and a fierce-looking, helmeted coney holding a hockey stick for a logo.
The game-worn jerseys were to be auctioned following the game at Heritage Bank Center. The jerseys belonging to Cincinnati's injured and non-roster players will be auctioned online via Handbid website or app following the game through Sunday.
Proceeds from the auctions go to the Cincinnati Cyclones Foundation which helps grow the sport in the city and Northern Kentucky.