Samsung will bring back the 45W charging standard to its smartphones, starting with the Galaxy S22 Ultra, leakster Roland Quandt reveals. He shared an image of the new PD charger with the model number EP-T4510, which will obviously be sold separately.
The travel charger will come with a USB-C to USB-C cable in the retail package, according to the leaked image.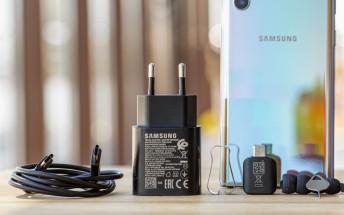 If the leakster is correct, this would mean we'll once again see a Galaxy smartphone with 45W charging. The last one was the Galaxy S20 Ultra, introduced in February 2020. Back then the 45W charger would throttle extremely quickly and barely made any difference in charging speeds compared to the 25W one.
The current 45W adapter looks very similar, and also comes with a USB-C to USB-C cable. The main difference on the outside is the smaller size of the upcoming EP-T4510 compared to the current EP-TA845XBNG. The included cable will be 1.8 meters long, which is longer than the current 1-meter cable.
The current 45W adapter retails for $50, so we expect similar pricing for its replacement.
Via