At Mobile World Congress (MWC) 2022, Xiaomi has unveiled the 'flagship level' Poco X4 Pro 5G smartphone as well as the budget-friendly Poco M4 Pro.
The Poco X4 Pro 5G delivers what Xiaomi calls "an all-around flagship-level experience" including a 120Hz AMOLED display, 108Mp camera and 67W turbo charging. However, it starts at just €299 (around £250/US$340) making it around two or three times cheaper than many flagship phones.
You can read our full Poco X4 Pro 5G review.
Kevin Qiu, head of Poco Global said: "With Poco X4 Pro 5G, we definitely set the industry standard for this segment, and with these prominent flagship-level features, we truly take the user experience to the next level."
The device has some seriously impressive specs for a price that's very much the lower end of mid-range phones.
It also has a 5000mAh battery, 8Mp ultra-wide camera, 16Mp selfie camera and up to 8GB of RAM and 256GB of storage.
Xiaomi says the X4 Pro 5G can offer 3GB of "transformed memory" from the 256GB of ROM thanks to Dynamic RAM Expansion Technology.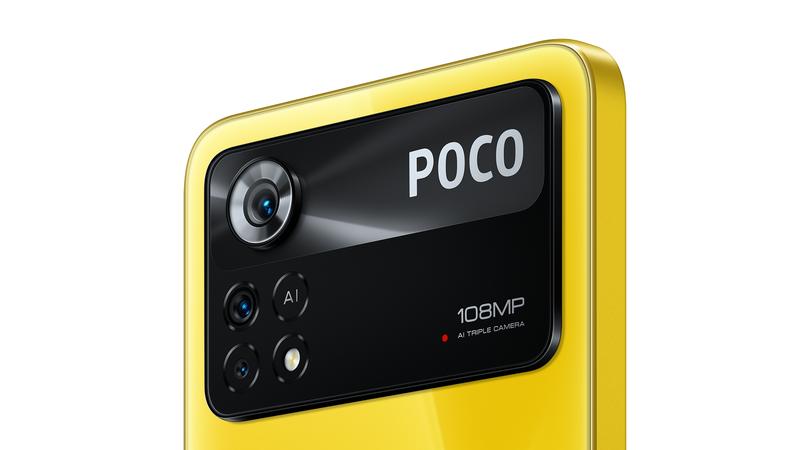 The main giveaway that it's not a true flagship phone is the Qualcomm Snapdragon 695 processor, rather than an 800-series. Still, this comes with 5G support so this is still a lot of phone for not much money.
Xiaomi hasn't made a big deal of it but the X4 Pro 5G has also had a design overhaul compared to its predecessor, the Poco X3 Pro. The main differences are at the back where the huge Poco logo is now more restrained within the camera module and there's a new refractive pattern rather than an odd dual matte and mirror finish
The Poco X4 Pro 5G is available starting from 2 March globally with UK specific release still to be confirmed. A 6+128GB model costs €299 (around £250/US$335 converted), while the higher 8+256GB option is €349 (around £290/US$390 converted).
Three colour choices are: Laser Black, Laser Blue, and Poco Yellow. Early bird prices starting from €249 (around £210/US$280 converted) are available for a limited time.
Can't afford the X4 Pro 5G? Well, the Poco M4 Pro (above) is extremely budget-friendly starting at €219. And it is a different phone to the Poco M4 Pro 5G.
It still has an AMOLED screen but with a 90Hz refresh rate – a first for a Poco M-series handset. It's 6.43in in size, so a little smaller than the X4's 6.67in display.
Elsewhere the M4 Pro has a triple camera setup with a 64Mp rear camera alongside 8Mp and 2Mp ultrawide and macro lenses respectively. The phone has a 5000mAh battery like the X4 but slower 33W charging.
Inside is a MediaTek Helio G96 chip and the same RAM and storage options as the X4 Pro 5G – even with the Dynamic RAM Expansion Technology. At 179.5g and 8.09mm thick, Xiaomi says the M4 Pro is the lightest Poco phone to date.
The Poco M4 Pro comes in Power Black, Cool Blue, and Poco Yellow with a starting price of €219 (around £180/US$245 converted) getting you 6+128GB. Pay €269 (around £225/US$300 converted) and you'll get the 8+256GB model.
As with the X4, early bird prices will be available for a limited time from 2 March starting at €179 (around £150 converted).