LineageOS 15 based on Android 8.0.0 Oreo is finally live for HTC One M8. A free, community built, aftermarket firmware distribution of Android 8.0 (Oreo) that is designed to increase performance and reliability of stock Android on your phone, this is an unofficial firmware for HTC One M8, updated just last month. Follow this guide for all the steps and links to install LineageOS 15 for HTC One M8.
Prerequisites to flash LineageOS 15 Oreo ROM for HTC One M8
Featured ROM: Galaxy Project Android 8.0 Oreo Custom ROM for Samsung Galaxy S7 and S7 Edge
Steps to install LineageOS 15.0 Oreo ROM for HTC One M8
Required files: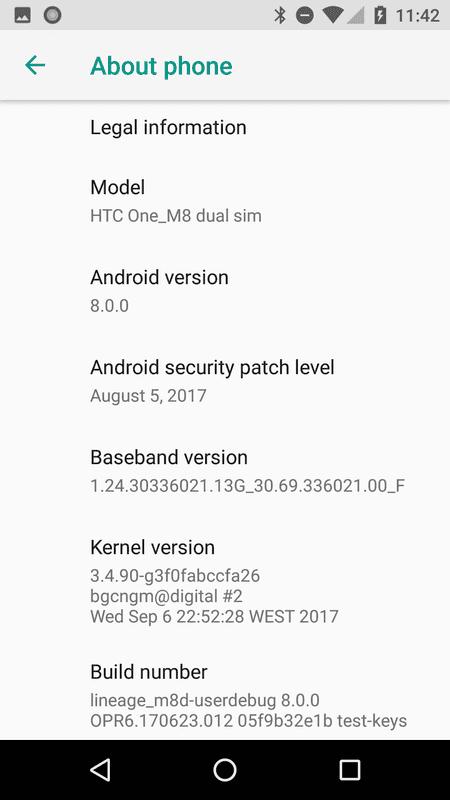 Step 1: Connect your HTC One M8 to your computer using a USB cable and copy the ROM and GApps zip files to your phone's internal memory.
Step 2: Disconnect the USB cord and power off your HTC device.
Step 3:Reboot your device in the recovery mode (TWRP has to be installed first).
Step 4: Once in recovery mode, wipe dalvik, cache, system and data (from Advanced).
Featured ROM: DevBase v5.7 Encryption Android Oreo ROM for Galaxy S7 and S7 edge
Step 5: From recovery main menu, tap on install, select the LineageOS custom ROM file and swipe to confirm the flashing process.
Step 6: Once installation is done, you will see two options to reboot or wipe dalvik cache - choose the latter.
Step 7: Now go back and flash the GApps package, repeating step 6.
Step 8:Again wipe cache before rebooting your device. First boot takes a good 5 minutes or longer so please be patient.
For more information, support, and queries, please visit developer's thread.