Apple's Peek Performance event went down with its signature flair and once again surprised the PC industry with a new chip, the M1 Ultra, that looks set to raise the bar on real-world performance and power efficiency. Yet the Apple Studio Display feels like a dud in comparison.
The Studio Display is a fairly mundane 27-inch flagship monitor. It has an edge-lit backlight instead of the more desirable Mini-LED tech found in some MacBook Pro and iPad Pro models.
As a result, it can't claim the 1,000,000:1 contrast ratio of Apple's Pro Display XDR and has a maximum brightness of 600 nits which, though high, is available elsewhere. At least it offers 5K resolution, which remains rare outside Apple's ecosystem.
Despite modest features, the Studio Display retails for $1,599. Why? It packs several extras including a powerful sound system and a webcam paired with an A13 chip for image processing. That's nice, but many photographers and creators it and the Mac Studio are aimed at are enthusiasts who use a full-size camera as a webcam and already own a decent sound system.
Apple has neglected to include a competitive ergonomic stand with the monitor: it's tilt-only to start. Upgrading to height adjustment costs $400, which is quality meme material, but a terrible price. At least there's a VESA mount variant that lets you use a third-party monitor arm.
Mac superfans who want a monitor they can use straight out of the box with absolutely zero fuss will like the Studio Display. If you don't break out in hives the moment you glance at a user manual, however, you're better off buying one of these alternatives.
Table of Contents
BenQ PD2725U
Key Specs:
Want to buy a monitor for photography and don't want to waste time on your search? Awesome. Just buy the BenQ PD2725U, which typically retails for $950.
BenQ's DesignVue monitors are always my go-to recommendation for anyone who is serious about image quality. Why? It's simple. BenQ's PD2725U delivers 4K resolution, excellent color accuracy, and a wide color gamut at an obtainable price.
I've tested several BenQ DesignVue monitors over the last few years and found each had an average color error below 1.5 (as tested with a SpyderX Elite). The PD2725U can also handle 95% of DCI-P3 plus loads of gamma, color temperature, and color calibration options to tune the screen as you need. Calibration is helped by a wired puck controller that acts like a remote, letting you make adjustments without awkwardly leaning in to use the buttons on the display.
There are a few downsides. This, like the Apple Studio Display, is a mundane IPS monitor with an edge-lit backlight. It has a decent contrast ratio for the category, but it's not amazing. Brightness is also so-so at a maximum of 400 nits.
The ergonomics are great. The monitor has a versatile stand that adjusts for height, swivel, tilt, and can pivot 90 degrees for use in portrait mode. Around the back, you'll find Thunderbolt 3 with up to 65 watts of power delivery, plus two HDMI ports and one DisplayPort.
BenQ PD2700U
Key Specs:
If you're on a budget, BenQ's PD2700U is a great alternative to the PD2725U.
The PD2700U is extremely similar to the PD2725U. It has 4K resolution and is essentially identical in color accuracy and contrast. Maximum brightness is a bit lower at 350 nits, though HDR is still supported (although it can be argued HDR cannot be HDR without at least 400 nits of brightness). The stand has the same ergonomic adjustments as this monitor's more expensive sibling but the puck controller is absent. Thunderbolt 3 is also removed at this lower the price.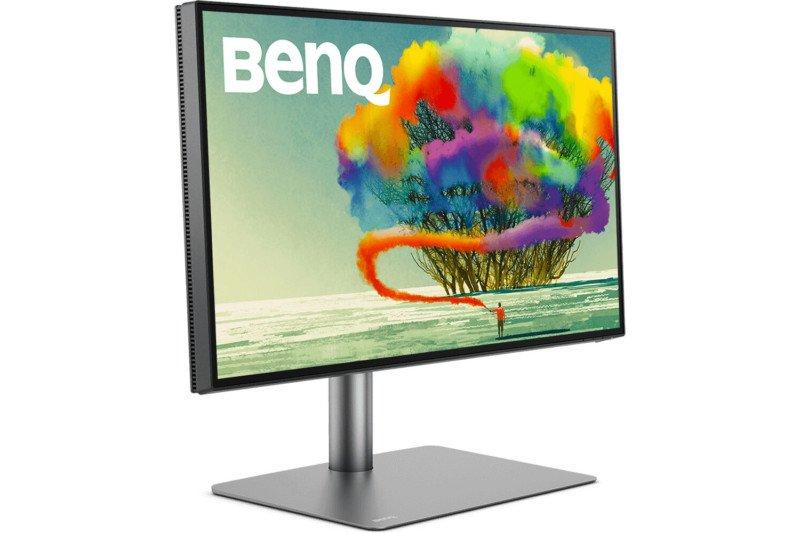 And wow, is the price lower. The BenQ PD2700U routinely sells for about $500 and has been known to dip below $450 during major sales and holidays. That's a screaming deal.
There's just one downside that photographers must note: this is not a wide gamut monitor, so it can only cover about 80% of DCI-P3 and even less of AdobeRGB. This will certainly be an issue if your work will be in print or otherwise must conform to a wide gamut.
Still, it's hard to call this a flaw given the price, and the PD2700U is excellent for photographers with less demanding needs.
Asus ProArt PA279CV
Key Specs:
The Asus ProArt PA279CV is similar to BenQ's PD2700U. It offers 4K resolution, solid color accuracy, and an adjustable ergonomic stand. The price? Just $500 at most online retailers.
Image quality is similar to the BenQ PD2700U overall. Color accuracy is calibrated from the factory and a wide range of image quality options will help you tune the picture to your liking. The monitor's contrast ratio hovers a tad above 1,000:1 and its brightness, like the BenQ, reaches a height of about 350 nits.
Color gamut is again worth note. The PA279CV again offers 100% of sRGB and Rec.709 but promises nothing for DCI-P3 or AdobeRGB. That's too bad, but a wide color gamut is elusive if you want to spend $500 or less.
The Asus' key advantage over the PD2700U is the USB-C port. It provides 65 watts of power delivery and DisplayPort Alternate Mode, so you can connect and charge some laptops. You'll also find four additional USB-A ports, making the monitor a useful USB hub when you connect via USB-C.
Dell Ultrasharp U2723QE
Key Specs:
A very new monitor, the Ultrasharp U2723QE has yet to cross my desk, however, Dell Ultrasharp monitors have rarely disappointed in the past and the U2723QE's feature set is outstanding for $800 and can often be found for as little as $625.
This is among the first Dell monitors with a 4K IPS Black panel, a new technology from LG that lowers black levels to double the contrast ratio from 1000:1 to 2000:1. OLED it's not, but a leap like that will be noticeable. You'll enjoy improved depth and realism while viewing high-contrast photos. The U2723QE also supports a wide color gamut that claims coverage of 100% of sRGB and 98% of DCI-P3. HDR is supported, too.
But wait – there's more! The U2723QE is also a USB-C hub monitor that packs up to 90 watts of power delivery. That's enough to support mid-range Windows laptops and any MacBook. The hub extends to five USB-A ports, one USB-C port, Ethernet, and DisplayPort-out.
What's the catch? I'd argue there isn't one – not at this price – but photographers should note this is not an UltraSharp Premier Color monitor and does not promise factory calibration. Readers who need the best color accuracy possible should consider the Ultrasharp UP2720Q. That monitor is over twice the price, though, and lacks both the IPS Black panel and USB-C hub. The new U2723QE is a better value for most.
Lenovo Thinkvision Creator Extreme
Key Specs:
The monitors I've covered so far are value alternatives to the Studio Display that pack most of the quality at a lower price — but now it's time to bring out the big guns.
Lenovo's Thinkvision Creator Extreme is a 27-inch monitor with a Mini-LED backlight that includes 1,152 dimming zones. That's twice as many as Apple's $4,999 Pro Display XDR. Because of this, the monitor can claim a contrast ratio of up to 1,000,000:1. A ratio of 5,000:1 is more realistic in real-world use, but that's still a massive and obvious leap up from the 1,000:1 ratio of most professional monitors with an IPS display.
The Mini-LED backlight also delivers excellent HDR performance. This monitor is VESA DisplayHDR 1000 certified, meaning it can deliver a peak brightness above 1,000 nits. While other monitors on this list technically support HDR, this is the only monitor that performs well enough for (most) people creating content specifically for HDR.
Color performance is great, too, with support for a wide color gamut promised to handle 100% sRGB, 99% DCI-P3, and 78% BT.2020. This monitor is factory calibrated and promises an average color error of less than DeltaE 1.
Just one problem: this monitor retails for $3,500. Online pricing dips as low as $3,289, which is still a lot of money. The price feels justified, as this monitor delivers performance similar to Apple's Pro Display XDR and well beyond the Studio Display, but still — it's a lot.
Hold on to Your Money! More Alternatives Are Coming
Want a monitor that performs like the Lenovo ThinkVision Creator Extreme but don't have over $3,000 to spend? Just wait.
As I've noted in past coverage on PC World and Lifewire, there is every indication the monitor market is about to experience a minor revolution. Mini-LED monitors are dropping quickly in price, and while not every model will be suitable for photography, most will perform rather well.
OLED monitors are also on an affordable trajectory thanks to QD-OLED technology, which has arrived in Alienware's surprisingly affordable AW3423DW. Samsung also has a 34-inch QD-OLED ultrawide coming later this year. I expect OLED monitors will remain rare into 2023, but the situation seems to be improving.
New Mini-LED and OLED monitors will push image quality to new heights and, if trends hold, at prices competitive with or below Apple's Studio Display. As the saying goes, good things come to those who wait.
---
Image credits: Header photo licensed via Depositphotos.