Android smartphones are versatile, and the number of emulators that you can get for modern and retro systems alike is incredible. From age-old systems like the NES right up to the Nintendo 3DS, you can play them all from the comfort of your smartphone. Obviously, emulating more modern systems can be a bit of a difficult task, and the only Nintendo Switch emulator for Android to date was merely conceptual. However, a new Nintendo Switch emulator for Android has just popped up online (viaWololo)… and it surprisingly works. There are some caveats to it, though.
Yeah, this Nintendo Switch emulator is shady
So, first and foremost, this Nintendo Switch emulator isshady. We're talking stolen code, dodgy translations, a forced login – the works. For background context: Yuzu is the most popular and reputable Nintendo Switch emulator on PC, and it works really well. ByLaws, the developer of the Android for Nintendo Switch port, has said onGBATemp that this Switch emu for Android has used some of Yuzu's GPU emulation code; he has since also told us that he has found "plenty" of evidence of used Yuzu code. Yuzu, by the way, is licensed under GPLv2, and this new emulator is closed source. On top of that, the team behind this new project claims to be an American studio that has been working on the emulator for over two years, yet their website and the emulator itself has text still left in Chinese along with poor English translations throughout. Finally, to even use the emulator, you need to create an account and log in.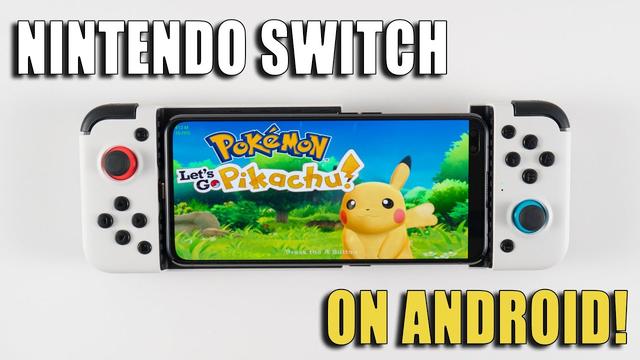 XDA-Developers VIDEO OF THE DAY
Oh, and you'll also need a specific controller
Even if you've managed to get over the shadiness of this particular emulator, there's one other, major caveat. You can only use it with a specific controller. This controller is only available to reviewers at the moment, and pre-orders have only just begun at a price of $99.99. It's a controller that looks very similar to the Nintendo Switch's Joycons, which does make sense.
If you could actually use the emulator without that controller it would be one thing, but the emulator doesn't even start without it connected. We spoke with ByLaws who told us that the check for the controller could theoretically be spoofed to support other controllers, but that a lot of effort has been put into obfuscating and protecting the app against debugging and patching. There are theories that this emulator has been developed by the team behind this controller and this is being done as a marketing campaign, though those are theories that are currently unsubstantiated.
A lot of Nintendo Switch games are working though
Probably one of the most credible videos demonstrating this particular emulator working is by Taki Udon, who tested it on the Realme X50 Pro 5G. ETAPrime, one of the largest emulation-focused YouTube channels, has also confirmed that it is real. Taki Udon shows the emulator running Nintendo Switch classics such as Pokémon Sword/Shield, Super Mario Odyssey, The Legend of Zelda: Link's Awakening, and Pokémon Let's Go. It runs Pokemon games surprisingly well, though it does admittedly show some slowdowns at times.
The emulator only really runs well on devices with the Qualcomm Snapdragon 855/855+/865/865+ flagship SoCs, and you won't really have any luck emulating on weaker smartphones. The emulator itself boasts compatibility with 81 titles, though 73 are listed as crashing or only getting to the menu.
It's definitely worth waiting
While this emulator shockingly works, we would recommend holding off on seeking it out for now. It's not possible to use it without a proprietary $100 controller and it's violating open-source licenses. We haven't mentioned the name of the emulator or the name of the controller in this article for these reasons, but it isn't hard to find. If we learn more about this project, or if other non-shady ones show up, we'll let you know. Our curiosity has definitely been piqued by this news since it opens up a new frontier for mobile gaming for those of you who also own a hacked Switch.