Hong Kong's fifth wave seems to have stabilized, authorities say, even after it reported 58,757 infections and 291 deaths.
The fresh cases include 32,766 from rapid tests and 25,991 from PCR tests.
A total of 195 people aged between 41 and 105 died - a single-day record.
Ninety-five were not logged until yesterday and an infected woman died at home on Monday. Most of them were elderly patients aged over 65.
The Standard ChannelMore&gt&gt
The Centre for Health Protection's principal medical and health officer, Albert Au Ka-wing, said seven of yesterday's cases were imported while the rest were locally transmitted.
So far in the fifth wave, Hong Kong has recorded more than 570,000 cases. More than 538,000 tested positive in PCR tests and over 34,000 in rapid tests, Au said.
"According to the figure on PCR tests, the daily number of cases peaked around several days ago - up to a level of over 50,000 cases a day, and then the daily number has dropped to around 30,000 cases a day. In the past two days, there were around 25,000 to 30,000 cases a day," Au said.
But the number of infections surged to over 50,000 again with positive cases from rapid tests.
"Purely judging from the PCR tests, we think that the increasing trend of cases in Hong Kong has been stabilized," Au said.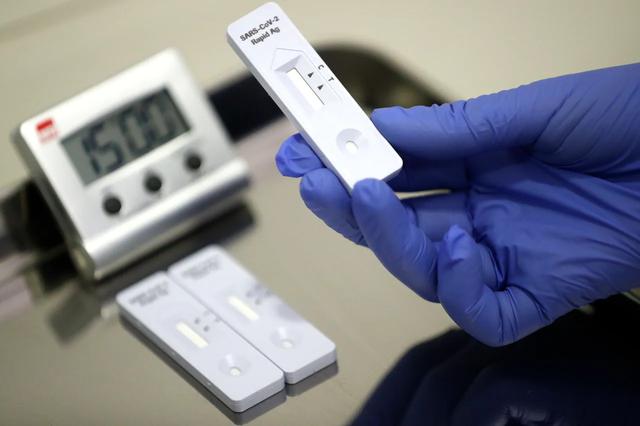 "We need to closely monitor the pandemic situation for a few days to observe the real trend, including the rapid antigen tests," he said.
Au said many people infected with the Omicron variant were asymptomatic or only had mild symptoms and they might not get tested. So the actual number of infections could be much more than that reported by the government.
Hong Kong has recorded 2,656 deaths in the fifth wave and the overall mortality rate is around 0.46 percent, with nearly 95 percent of deceased patients being those aged above 60.
Among the deaths, more than 90 percent failed to complete vaccination and the death rate among those people was 1.64 percent - 27 times higher than the 0.06 percent death rate among fully vaccinated individuals.
As for people above 80, the mortality rate for those who did not complete vaccination and those who received two jabs was 10.87 percent and 2.27 percent.
The Hospital Authority's chief manager of patient safety and risk management, Sara Ho Yuen-ha, said 195 people aged 41 to 105 died yesterday, including 178 older than 65.
She said 145 were not vaccinated, 30 received one jab, 19 got two jabs and only one received three doses.
The youngest among the deceased was a 41-year-old domestic helper. She collapsed at home and was found to have bleeding in the brain after she was sent to a hospital, Ho said.
Other relatively young patients were all suffering from cancer or chronic diseases, she added.
Nearly 900 cases were found in lockdowns yesterday, including the Tin Yiu House at Shun Tin Estate in Kwun Tong, which picked up 315 preliminary positive cases, or 30 percent of the 1,020 residents.
[email protected]