BANDAR SERI BEGAWAN – Take advantage of the offers and promotions at the IHTIFAL 2019 Roadshow happening at the Atrium of the Airport Mall until Sunday, April 7.
Organised by Perbadanan TAIB in collaboration with its subsidiaries, Insurans Islam TAIB Holdings Sdn Bhd (IITHSB) and Darussalam Holdings Sdn Bhd (DHSB), the event is aimed at educating and informing the public about their products and services.
The event was launched by the second Minister of Defence YB Pehin Datu Lailaraja Major General (Rtd) Dato Paduka Seri Hj Awang Halbi Hj Mohd Yussof, in his capacity as the Chairman of Perbadanan TAIB's Board of Directors.
In her speech, Acting Managing Director of Perbadanan TAIB Hjh Noorrafidah Sulaiman, said the roadshow is also held as a token of appreciation to its loyal customers.
"It is also a platform to leverage brand awareness and attract new customers among the general public who come to the event," she said.
By participating in the line-up of activities, visitors can win attractive prizes and be eligible for the lucky draw.
Perbadanan TAIB
At Perbadanan TAIB, the activities include Snake and Ladders, Shop til U Drop at Sim Kim Huat Department Store, pop quizzes, the TAIB Amazing Race and guessing games such as 'The Price is Right'.
Try your luck and stand a chance to win electrical goods, shopping or meal vouchers and so much more.
A Kids Corner is also available, equipped with bean bags for children to participate in colouring activities.
When you take on services available, you are entitled to participate in the Ihtifal Lucky Draw. Instant Lucky Dips will also be given to visitors who make enquiries.
So, get financing services either corporate or personal financing, update your personal information, convert to using the E-statement, register for Mobile Banking or do Zakat registrations and calculations at Perbadanan TAIB's booth.
Additionally, customers will be eligible to enter Perbadanan TAIB's ongoing financing promotions which started on January 15 until April 15.
Among the promotions are low rates on personal or consolidation and property financing as well as a 50 percent off of the processing fee for education financing. This also includes an education financing lucky draw offer where entries will stand a chance to win a travel voucher worth $2,000.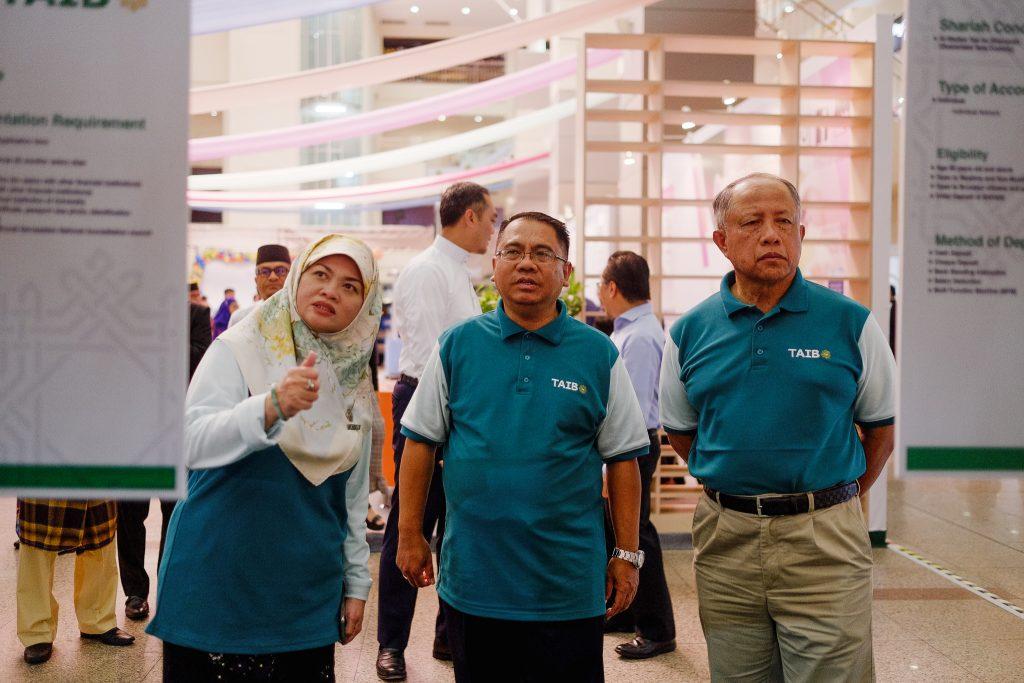 Meanwhile the second promotion which started on March 1 until November 30 is Perbadanan TAIB's Grand Draw 2019 campaign.
Customers who apply for any financing products will stand a chance to win a Hyundai Creta vehicle and other exciting prizes such as Umrah Package/ travel vouchers worth $5,000, home appliances and electric gadgets.
Interested customers can apply to these promotions directly to the TAIB Financing Centre located at the 1st floor of Airport Mall.
Insurans Islam TAIB Holdings Sdn Bhd (IITHSB)
Don't miss out and take part in the promotional campaign by IITHSB dubbed "Let's Celebrate 26" organised in conjunction with its 26th anniversary.
Starting from April 1 until March 31, 2020, customers who purchase selected products of Insurans Islam TAIB General Takaful Sdn Bhd (IITGT) and Insurans Islam TAIB Family Takaful Sdn Bhd (IITFT) will be eligible to one lucky draw entry where they can win more than 70 exciting prizes including a Hyundai Creta vehicle, MacBook Air, handphone, cash and shopping vouchers.
The selected promotion products are Comprehensive Motor Takaful (private) and Home Owner Takaful for IITGT and Motor Takaful for Hire Purchaser for IITFT.
The agency is also offering promotional discounts during the roadshow on selected products and participating customers will be entitled to lucky dips and daily lucky draws. It will also hold pop quizzes with freebies to be won daily.
Existing IITGT customers are welcomed and encouraged to update their information and therefore be entitled to a lucky dip.
Those interested in financial planning can attend a Financial Planning talk on Sunday at 4pm. The talk will be delivered by a Certified Financial Planner and the President of Financial Planning Association Brunei Hjh Raiedyah Hj Bujang.
IITHSB will also organise a blood donation campaign on Sunday from 1.30pm onwards.
Darussalam Holdings Sdn Bhd (DHSB)
Darussalam Holdings will be launching its 2019 Lucky Draw Campaign and prize presentation for the company's 25th Anniversary Lucky Draw that started in April 2018 until March 2019.
Winners of the grand prize will take home an Umrah package for two worth $8,000 or any destinations. Other prizes include tickets to various destinations such as London, Melbourne, Dubai, Seoul, Taipei, Bali, Ho Chi Minh, Singapore and Kuching.
The first 500 customers who make any transactions during the roadshow will be given instant lucky dips.
Customers will also be eligible to enter DHSB's 2019 Lucky Draw Campaign where they will be given two coupons for each transaction.
If you're thinking of making that Umrah trip, now's the time as depositors of any Umrah package during October to December 2019 and January to March 2020 will get a $100 discount.
Those participating in the company's holiday packages will be given special discounts Perbadanan TAIB, IITHSB and DHSB will also be holding Ihtifal Lucky Draws daily during the roadshow.
Five lucky draw prizes will be given away consisting of a pair of air tickets to Jakarta and an Acer Laptop OPPO F11 Pro.
Customers can expect to win more air tickets, shopping vouchers as well as electrical goods.