What I'm showing today is an underrated feature called Samsung Flow. I am showing this because when we published a video about how to live stream content from your phone via OBS, I was surprised. A lot of commenters on that video were actually teachers.
Recently, I discovered that you can skip all the dongles, capture cards, and cables. All you need is just one cable from the computer to your phone – or maybe no cables at all?
But what's the catch? Yea, there's a catch.Everything that we show today only works with Samsung devices and Windows 10 PCs. And it's free – so I highly recommend you to check this out.
Before we begin – here's a disclaimer. This might look like an ad for Samsung but I assure you that I am not paid by Samsung to make this content and they don't even know that I am making this content. I am also not trying to sell you Samsung products – I am only letting you know that such a feature exists.
With that out of the way, let's begin. I highly suggest you watch the video as many things cannot be told/shown via text.
How to stat using Samsung Flow
To use this, we will have to download Samsung Flow first. We'll need the Samsung Flow app on the phone which we can get from the Google Play Store – and the Samsung Flow desktop app from the Microsoft Store.
Then, we'll link both together. These setups instructions are easy to follow through and while it does look like there are a lot of prompts, these steps only require to be done once.
You can also use it in wired mode but I think for the sake of convenience, we'll stick with wireless mode. Either wired or wireless mode, it'll appear on Samsung Flow during the setup process so just pick and choose what you prefer.
Once we have Samsung Flow linked to the PC, all we gotta do is click on this button, enable the permission on the phone, andvoila. 1:1 screen mirroring.
Using Samsung Flow to convert smartphones/tablets into a digital whiteboard
Now, how is the experience of using the whole thing?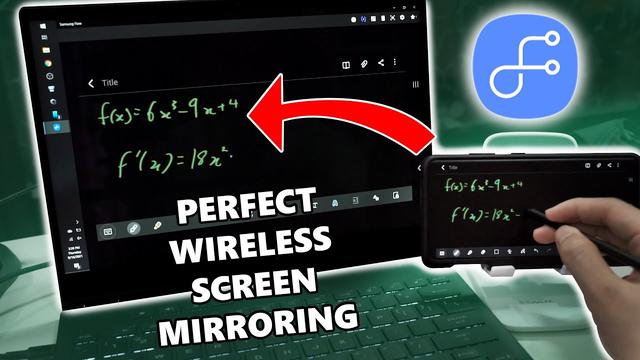 I think it's very good, actually. It allows another method of teaching while saving time, space, money on additional equipment, and mental health of trying to get everything hooked up.
Using Samsung Flow wirelessly actually is perfectly acceptable since that little bit of delay is not going to impact the class in any way. Just make sure you have strong WiFi on both the phone and your Windows PC, though.
My immediate test was to use the Galaxy S21 Ultra – my daily driver phone – to try it out first. To my surprise, this works really well – and with the S Pen, I can literally use my phone as a digital whiteboard.
I also discovered one very useful tip – I can directly use the Samsung Notes app to conduct classes. Everything I draw on the phone will be shown mirrored exactly on my PC.
And let's just say I'm done with my class for the day, I can save and export the note in a variety of different file types. I personally prefer PDF since it doesn't lose its resolution or quality when shared across via WhatsApp or Telegram.
Does it work with all Samsung devices?
I can't tell for sure if it works willall devices, but it works with many devices that I've tried with:
If I'm using a Samsung device that doesn't support the S Pen, I can still do it with my fingers. It works – just not that precise. I tried it with the Galaxy A72 first (review here) and it worked out great. Using fingers to draw on the the screen is also a feasible method.
Even Samsung's lowest-priced tablet, the Samsung Galaxy Tab A7 Lite (review here) works with Samsung Flow and Samsung Notes too. Even that it is an entry-level tablet with less-than-stellar performance, it still works.
And if you have any physics simulation apps that you want to show off during the class, you can do it too. Audio can also be played on the PC – just click on that button and select the audio to be played on the PC.
And you can do all this wirelessly via Samsung Flow. There's obviously about a second of delay – but I think it doesn't matter since this doesn't require perfect sync.
But what about using a drawing tablet instead?
Yeah – that's perfectly fine. It works just about the same way as you can draw on the tablet and have everything show up on the screen directly. A drawing tablet is a substitute to the S Pen and honestly speaking – since it elevates your teaching experience, the students will always benefit from it.
Why did I spend time sharing this information?
If you already have a Samsung device, then just make use of it. You've already paid for that device so might as well use all the features that you already paid for.
We're in the age that we are forced to teach and learn via the internet – and I believe that we can utilize what we have to provide a better teaching experience for the future generation.
---
Like our Facebook Page here at NasiLemakTech.com for more news and in-depth reviews!Also, join our Facebook Group for insightful information and memes!
Subscribe to our YouTube channel too!
---