If you are in the market for a new tablet, you may be wondering which option is right for you: the Huawei MatePad or the Huawei MatePad Pro? Both tablets have some great features, but there are some key differences that you should know about before making your decision. In this article, we will compare and contrast the two tablets to help you decide which one is right for you.
Display and Design
Both tablets perform extremely well in terms of design. Their appearance is composed of elegant metal one-piece finishes. With its midnight grey color and elegant design
.
It's hard not to love these two stylish tablets!
However, the display screen of the Huawei MatePad Pro is larger than that of the Huawei MatePad, with a size of 10.8 inches. It also has a higher resolution, 2560 x 1600. At the same time, it will bring you pure happiness in daily use or when you are comfortable shooting designer works at home.
Huawei MatePad Pro is the perfect device for those who love capturing nature's beauty.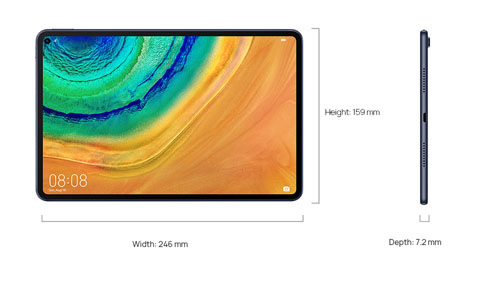 The Huawei MatePad display is very small, only 10.4 inches, and the resolution is also slightly lower than that of the Huawei MatePad Pro, only 1200 x 2000. this tablet is ideal for watching movies, browsing the web, or getting things done.
Performance
When it comes to performance, the Huawei MatePad Pro is the clear winner. It is powered by a Kirin 990 processor and has up to 256 GB of storage. The Huawei MatePad, on the other hand, is powered by a Kirin 810 processor and only has 64 GB of storage.
Huawei MatePad Pro has better battery life and longer tablet life, which is definitely worth choosing. It lasts for up to twelve hours on one charge while playing videos or continuously browsing websites! The Huawei MatePad only lasts for about eight hours on a single charge.
Cameras
Huawei MatePad tablet is equipped with a 8M rear camera, which is more suitable for capturing a memory or shooting important documents. The camera has a resolution of 1920x1080 pixels and can capture every detail. In addition, with autofocus and flash support, you can take clear and bright photos regardless of lighting conditions.
The Huawei MatePad Pro is equipped with a 13megapixel rear camera and f/1.8 aperture. The camera supports flash and phase focusing and can capture images with resolutions up to 3840 x 2160 pixels. The front camera is 8million pixels, with an f/2.0 aperture and fixed focal length, and can capture images with a resolution of 1920 x 1080 pixels. Therefore, if there is a large number of shooting needs, it is more convenient to use Huawei MatePad pro.
Conclusion
The Huawei MatePad and matepad pro are two tablets that offer a lot of features for their users. Both have beautiful displays, run on the latest Android OS, and come with a stylus pen. The Huawei MatePad Pro is a great choice for those who are looking for a more powerful and better-performing tablet. It has a larger display, longer battery life, and a sleeker design. However, it is more expensive than the Huawei MatePad. The Huawei MatePad is a good choice for those who are looking for a cheaper option that still has some great features. Even though the resolution of the Huawei MatePad display is not as good as that of the Huawei MatePad Pro, the resolution of the photography and camera phase is enough for you to use. So no matter which tablet you choose, you will be satisfied with your decision.