The Redmi Note 11 is here, and it's a phone that will disrupt the affordable phone market. The phone is offering high-end features packed inside a premium body at incredibly low prices. One of the unique features of the device is the built-in hands-free Alexa integration. It makes this phone a joy to use with just your voice commands. With its powerful hardware and flawless Alexa integration, this phone is going to pose a tough challenge to its competition. Here, we take a detailed look at the smartphone to tell you all about it.
Redmi Note 11 specifications and other features
In this section, we will go through the hardware of the Redmi Note 11 to see if it lives up to the task or not. So, without further ado, let's get started, shall we?
Gorgeous 6.43-inch display
One of the most striking aspects of the new Redmi Note 11 is its AMOLED display. This 6.43-inch panel promises excellent contrast levels and a great dynamic range for any kind of content. And the best part is that it's a 90Hz display, which enhances its appeal furthermore – you can look forward to smooth scrolling when navigating through the interface and stutter-free gaming performance.
The FHD+ resolution screen covers the DCI-P3 colour gamut for offering a wider array of colours, and it also supports Xiaomi's Sunlight Display and Reading Mode 3.0 technologies. A phone's display plays a major role in its overall user experience and it's safe to say that the Redmi Note 11 wins with flying colours in this department.
Blazing fast performance with Qualcomm Snapdragon 680 chipset
The Redmi Note 11 is powered by the Qualcomm Snapdragon 680 chipset. It is a 6nm chip that can deliver super-fast speeds while keeping battery consumption levels on the down-low. The octa-core processor is made up of four 2.4GHz Kryo 265 Gold cores and an equal number of 1.9GHz Kryo 265 Silver cores. Moreover, there's the Adreno 610 GPU, which greatly enhances the graphical capabilities of this phone.
Up to 6GB of RAM is present on the phone, giving its multitasking abilities quite a boost. Gamers should be more than pleased with such an internal setup as it means all their modern games will run smoothly without any hitches. There's no doubt that the phone will ace all the daily tasks you throw at it.
50MP Quad camera brilliance
Photography is a prime area of importance for any phone these days, and Xiaomi has done well to equip the Redmi Note 11 with a great set of cameras. A 50MP f/1.8 sensor headlines its quad-camera setup, offering magnificent light-capturing abilities for capturing images in all lighting conditions. There's an 8MP ultra-wide camera present on the device as well.
Its ability to give you a 118-degree field of view can help you get completely new perspectives on the same subjects. Furthermore, the quad-camera setup of the Redmi Note 11 also includes 2MP Macro and depth cameras, offering more versatility in the photography department. As for the front camera, you get a 13MP shooter that can capture beautiful selfies and look great in video calls. What's more, Alexa can quickly open the Camera app with just a command, so you don't miss the perfect moment for a quick selfie!
A big 5,000mAh battery with 33W Pro Fast Charging
Despite its slim nature, the Redmi Note 11 ships with a 5,000mAh battery at its heart. You can go through an entire day of heavy usage and still have some juice left in the phone for some night-time browsing. And if you are a moderate user, you most definitely can extract two days of use from the device. On a full charge, you can indulge in 23 hours of video watching, 34 hours of calling, and 198 hours of audio playback. When it eventually loses its battery, its 33W Pro Fast Charging will come in incredibly handy. That Pro branding stands for various optimisations that allow it to offer 15 percent faster charging than traditional 33W chargers.
Other highlights
The Redmi Note 11 comes with dual stereo speakers for a stunning audio experience. This, combined with its awesome display, will result in great immersion levels when you're streaming content on this phone. Plus, there's the option of using wired headphones as well, thanks to its adoption of a 3.5mm jack. Another interesting aspect about this phone is its RAM Booster technology, which can offer an additional 8GB of RAM using software optimisations.
Get hands-free access to Amazon Alexa
One thing that differentiates the Redmi Note 11 from other devices is that the phone gives you hands-free access to Alexa. Using Alexa's voice commands, you can do things like play music, check the weather, get instant news, control smart home devices, and so much more. Since Redmi Note 11 allows you to access Alexa in a hands-free mode, you don't even need to touch your device to use these services. Not only that, you can even allow Alexa to work when your device is locked. Alexa allows you to perform so many cool actions that the Redmi Note 11 feels like it's something more than just your smartphone. Moreover, the features you get with the Redmi Note 11 complement so many of Alexa's abilities.
Let's check out how you can set up Alexa and use it on your Redmi Note 11.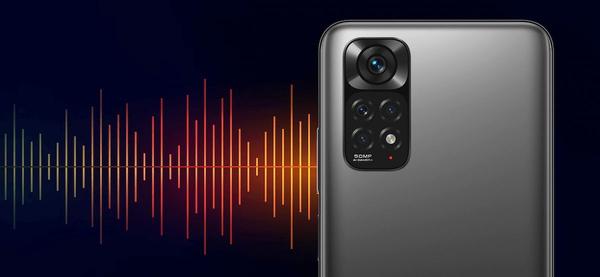 Setting up hands-free Alexa on Redmi Note 11
Setting up Alexa on your Redmi Note 11 takes only a few minutes. You can set up Alexa either by using a pre-existing Amazon account or by creating a new one on the fly. Here are the steps needed to set up hands-free Alexa on Redmi Note 11.
How Alexa enhances your smartphone experience on Redmi Note 11
Now that you have set up hands-free Alexa on your Redmi Note 11, let's take a look at how Alexa can enhance your experience with the smartphone.
‌Music, entertainment, and games
Music playback is one of the most commonly used features for any smartphone user, and Alexa has deep integration with all the popular music streaming apps such as Amazon Music, Saavn, Gaana, and more. Just say, "Alexa, play songs on Amazon Music," and it will start playing your favourite songs or bands. The best part is that you can play music using Alexa regardless of what's on your screen or even when your phone is locked. You don't have to switch apps or unlock your device for this to work.
The dual speakers of Redmi Note 11 are a treat to listen to music on loud when you are in your room, and the two-day battery life will guarantee that your playlist will run out of songs before the battery on the smartphone does. Alexa and Redmi Note 11 are indeed a force to reckon with!
If you are an Amazon Prime Member, you already get unlimited access to ad-free music on Amazon Music. This makes the entire experience even better. Similarly, you can use Alexa to play podcasts and audiobooks on Audible, play voice-activated games like trivia, and more.
‌Alexa makes your everyday life easier
Alexa can also make your everyday life easier by allowing you to turn on alarms, create shopping and to-do lists, make calls, and keep track of your calendar events. You can even get directions to your next meeting place using Alexa voice commands. Just try a few of these commands:
What's more, you can ask Alexa to make calls to family members who use the Echo Show to have a video call! Of course, the gorgeous 13MP selfie camera of Redmi Note 11 will guarantee you look your best, while the 90Hz FHD+ AMOLED display will guarantee amazing visuals on your end.
You can even shop for everyday products on Amazon using Alexa voice commands. This makes getting your everyday products so much easier and faster. Use commands such as "Alexa, order mouthwash," and it will place an order using your Amazon account. Here are some other examples:
Another way Alexa can improve your life is by allowing you to pay utility bills. All you need to do is to add your bills to Amazon and then ask Alexa to pay for them. Just ask,
Get news, weather, and other information
Alexa can also be your information provider. You can use Alexa to check the weather, get sports scores, listen to top news stories, and even ask general knowledge questions. Here are some of the commands that you can try to get started.
The deep integration of Alexa with all the apps on your Redmi Note 11 and the latter's Snapdragon 680 SoC with up to 6GB RAM will guarantee that your smartphone experience remains as seamless as ever, and you never run out of system memory regardless of how many apps you download or the Alexa Skills you add!
Control smart home devices and set routines
You can also use Alexa to control your smart home devices such as smart bulbs, smart blinds, and more. You can say commands like:
If you want to see the real power of Alexa you can set up routines. An Alexa routine can complete multiple tasks with just one command. For example, you can create a morning routine that will turn on your light, play your favourite morning music, turn on your geyser, and more.
Redmi Note 11 with hands-free Alexa – conclusion
The Redmi Note 11 is a magnificent device that's giving stiff competition to its rivals. In fact, with such a wide array of advanced features at such a low price, it doesn't have many competitors in the first place. It's a blind buy for anyone looking for a phone priced below Rs 15,000. The device will be available to buy on Amazon, Mi.com, Mi Home stores, Mi Studios, and major retail outlets in the country.
Its 4GB RAM + 64GB model will cost Rs 13,499, while the 6GB + 64GB option will be made available at Rs 14,499. There's also a 6GB + 128GB variant priced at Rs 15,999. These prices are introductory and are subject to change later, so better hurry up with your purchases. Launch offers on the phone include a Rs 1,000 instant discount for customers using Bank of Baroda credit and debit cards. No-cost EMI options and exchange offers will also be available.