The Note 11T is the latest 5G phone from Redmi
By Nimish Dubey -
Review Summary
Expert Rating3.5/5
Design★★★★★★★★★★ Display★★★★★★★★★★ Software★★★★★★★★★★ Camera★★★★★★★★★★ Performance★★★★★★★★★★ Battery★★★★★★★★★★
Pros
Cons
Xiaomi has launched a new phone in its bestselling Redmi Note series in India – the Redmi Note 11T 5G. There is a little twist in the plot, though – although the Redmi Note 11T 5G seems to be the first phone in the Redmi Note 11 series, it actually is more of an update of the Redmi Note 10T 5G (review), which was launched a few months ago. Now, is this an update worth investing your (currency) Notes in? Let us try to figure that out through these seven points.
Table of Contents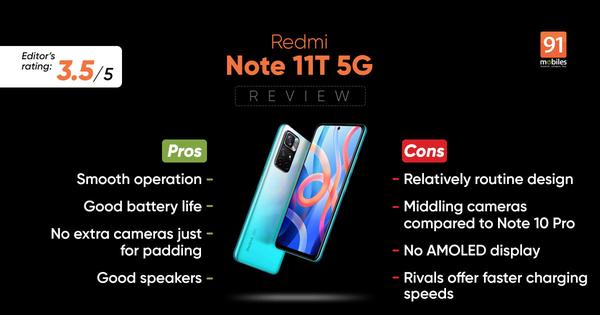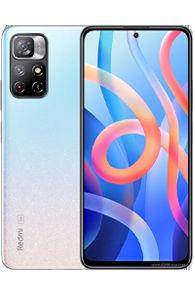 Does NOT look Note-able!
With the Redmi Note 10, the series seemed to have turned a very significant design corner, getting into a very classy appearance zone with (generally) glass fronts and backs. Xiaomi called this the EVOL ("LOVE" spelt in reverse) design, and there was a lot to love about it – slim frames, sleek finishes and some very innovative colour schemes. Now, while Xiaomi insists the Note 11T 5G also follows the EVOL design language, it is not exactly as classy as its predecessors. In fact, while it does not look bad, it does not look too different from other phones in its segment.The front is all about the 6.6-inch display (with Gorilla Glass 3) with a punch hole notch in the top middle, and tiny bezels, but it is the back that's interesting. It is polycarbonate and while it does have a kind of gradient-like finish, the texture is grainy rather than glossy as seen in most other Note devices. Some might find it more "grippy" and it certainly is more resistant to scratches and smudges than its glossy cousins, but it looks and feels a little less premium.
The back also has a huge camera section, with space for five cameras or four cameras and a flash. However, only two of those are actually occupied by cameras, with the flash taking another one, and two camera slots being filled by a red dot and an AI logo. It is definitely an odd touch, when you consider how noteworthy (pun intended) the camera unit with a silver enclosure for the main sensor was present on most of the Note 10 series. It is a slim 8.75mm, but is not exactly lightweight at 195g. There are dual stereo speakers, one at the top and another at the base, and thankfully a 3.5mm audio jack as well (at the base). The display and power button on the right doubles up as a fingerprint scanner as well, something that is becoming as trademark Xiaomi as is the infrared port on top of the phone. It is a large phone that has a reassuringly solid feel to it. We got the Aquamarine Blue variant of the device (you also have the relatively less noticeable Matte Black and Stardust White), and while it looked reasonably presentable, it did not really stand out from the mid-range crowd.
Decent hardware, plus Dimensity 810, but minus AMOLED
The hardware of the Redmi Note 11T 5G matches its appearance – it is definitely very mid-segment and ticks most boxes, without any single feature really jumping out at you. The display is Full HD+ and has a 90Hz adaptive refresh rate (which means the refresh rate adjusts as per the content being shown on it), but unlike most of the Redmi Note 10 series, this one is an LCD rather than an AMOLED display. Under the hood is a MediaTek Dimensity 810 processor, a big step up from the Dimensity 700 on the Redmi Note 10T 5G and one which many believe is more than a match for the Snapdragon 750 in more expensive devices. This comes with three RAM and storage variants – 6GB / 64GB, 6GB / 128GB and 8GB / 128GB, with the storage being the faster UFS 2.2.
Interestingly, not only is the storage expandable to a massive 1TB (though the card itself will cost a fair bit), but even the RAM can increase temporarily using the RAM booster mode, which borrows memory from the storage in times of need – the 6GB / 6 GB variant can get a RAM boost of an additional 1GB, the 6GB / 128GB variant can get 2GB more RAM while the 8GB / 128GB model's RAM can actually go up to 11GB, an addition of 3GB.
By Note standards, the Note 11T 5G does not really have an amazing spec sheet, but as we said, it ticks most boxes. And particularly the 5G one, which takes us to the next time.
A futuristic touch of 5G
The most outstanding feature of the previous Redmi Note to be launched in India, the Note 10T 5G, was the support for 5G – it was the first Redmi device in the country to come with 5G support. The Redmi Note 11T 5G follows its example (as its name indicates), and comes with support for seven bands of 5G, and with 5G support on both SIM cards. That makes it quite a proposition for anyone looking for 5G on a budget, although there is no sign of the network itself coming to India at the time of writing. Also on board are Bluetooth, Wi-Fi, GPS and that Redmi Note staple feature – an infrared port.
"Good light" cameras, not "Good night" cameras
Xiaomi deserves credit for opting for quality instead of quantity in the camera department. The Redmi Note 11T 5G comes with the fewest cameras we have seen on a Redmi Note for a while – just two at the back (yes, even though there seems to be space for more) and one at the front. But we think that is a good thing because none of these cameras seems to exist just to make up the numbers – on the rear is a 50-megapixel main camera and an 8-megapixel ultrawide camera, while selfies are handled by a 16-megapixel camera. There are no low resolution and/or mediocre 5 or 2-megapixel snappers here. In terms of photography, the rear cameras do a decent job in good light conditions. There is an impressive amount of detail in most daylight shots, and while there is just a hint of over saturation at times, we do not think anyone will mind bright colours. Bright colours, incidentally, are what mark out the cameras' low light performance – the colours are bright enough, but detail takes a clear hit more often than not. That is not really surprising at this price point. Videos are not exceptional but are good enough for social media.
The main sensor of course is the star performer but the 8-megapixel ultrawide does allow one to capture the wider picture, although at the cost of detail. The 16-megapixel front-facing camera is a pleasant surprise and took some very good selfies – yes, they were slightly beautified but again, we do not see folks minding that too much. Portrait mode on both front and rear cameras is a little hit and miss but very usable unless one starts zooming into edges. We would not rank the Note 11T 5G cameras ahead of the ones we saw on the Note 10 Pro series, but they are definitely better than those on the Redmi Note 10T 5G, in spite of being fewer in number. We hope this is the beginning of the end of token cameras in smartphones, but we are not holding our breaths!
MIUI on top of Android 11
The Redmi Note 11T Pro comes with MIUI 12.5 running on top of Android 11, right out of the box. Xiaomi's interface might not be to everyone's liking but we find it convenient and feature-rich to use. With hardly any ads to mess up the experience (none if you are careful enough), and some very handy tools on board (particularly a very good Notes app), MIUI 12.5 is in our opinion, one of the better Android interfaces out there. There are not too many third-party apps on board either. Interestingly, Xiaomi has made no official commitment on the number of Android updates the phone will receive, but we have been told that MIUI and Android security updates should be coming its way regularly.
Battery beast
Support for 5G might be perhaps the biggest USP of the Redmi Note 11T 5G but its star performer is the 5,000mAh battery. It easily can see off a day and a half of normal to heavy use and if one is careful, even two days and more. It comes with a 33W charger in the box, which might not impress too many, given the fact that one can get much faster chargers at this price point, but it charges the phone in about an hour, which while not being super-fast, is definitely handy enough, given the size of that battery.
A very Note-worthy performer
With that very decent (though not exactly exceptional) spec sheet and software, it is not surprising that the Redmi Note 11T 5G generally churns out a smooth performance. The display might not be an AMOLED one, but it certainly delivered good colours and lives up to Xiaomi's claims to have made it especially readable in bright sunlight (Sunlight Display). In terms of usage, we did not encounter any lags or crashes and nor did the phone heat up too much at any stage. We would not call the phone a gaming beast, but it can handle most games once you turn down the settings a bit and the stereo speakers certainly deliver some very good sound. The phone's real strength, however, is its handling of everyday life. From social networks to emails to messaging to watching videos, the Note 11T 5G sails through them smoothly. Call quality is good too, and when you top it off with the super battery life, you have a device that slots in comfortably in the mid-segment of smartphones. The cameras and display are a bit of a letdown by Redmi Note standards
Worth a buy? If 5G is a must!
The Redmi Note 11T 5G is priced at Rs 16,999 (6GB / 64GB), Rs 17,999 (6GB / 128GB) and Rs 19,999 (8GB / 128GB). Its most obvious challenger is the Realme 8S 5G (review) which comes with the same MediaTek Dimensity 810 processor, a 6.5-inch full HD+ display, a 64-megapixel main sensor (although with two rather ordinary two-megapixel sensors in support), and a 5,000mAh battery, and starts at Rs 17,999. There is also the recently launched Lava Agni 5G (review), which also runs on the Dimensity 810 processor and comes with a bigger 6.78-inch full HD+ display and a quad-camera setup led by a 64-megapixel camera for Rs 19,999.
Take 5G out of the equation (let's face it, it has not yet arrived in India), and one of the Redmi Note 11T Pro's headaches is its own cousin, the Redmi Note 10 Pro Max, which starts at Rs 17,999, has a 6.67-inch full HD+ Super AMOLED display with a 120Hz refresh rate, a superior 64-megapixel main sensor and vastly more eye-catching design, even though it runs on the relatively older and slower Snapdragon 732G chip. There is also arguably the best value for money phone in the mid-segment, the POCO X3 Pro (review), which brings a 120Hz refresh rate display and the most powerful processor in the sub-Rs 20,000 segment, the Qualcomm Snapdragon 860, at a starting price of Rs 18,999.
Worth mentioning that Xiaomi is offering an inaugural discount of Rs 1,000 and another Rs 1,000 off on ICICI card transactions, effectively bringing the starting price of the Redmi Note 11T 5G to Rs 14,999. The smartphone is a good option mainly for those who want a mid-segment 5G phone without compromising on performance, and with the assurance of one of the most successful brands in the country. It is definitely a big step ahead from the Note 10T 5G, and seems closer to it than the Redmi Note 11 series (of which there is little other sign in India). Pretty much THE Redmi Note to get if you want 5G!
Editor's rating: 3.5 / 5
Pros:
Cons:
Xiaomi Redmi Note 11T 5G
| | |
| --- | --- |
| RAM | 6 GB |
| Processor | MediaTek Dimensity 810 MT6833 |
| Rear Camera | 50 MP + 8 MP |
| Front Camera | 16 MP |
| Battery | 5000 mAh |
| Display | 6.6 inches |
See Full Specs Xiaomi Redmi Note 11T 5G Price View All
| | | |
| --- | --- | --- |
| | Rs. 16,999.00 | Go To Store |
| | Rs. 16,499.00 | Go To Store |
| | Rs. 15,999.00 | Go To Store |
Competitors for Xiaomi Redmi Note 11T 5G
| | | |
| --- | --- | --- |
| Xiaomi Redmi Note 11T 5G | vs | Realme 8s 5G |
| | | |
| --- | --- | --- |
| Xiaomi Redmi Note 11T 5G | vs | Lava Agni 5G |