Nokia (NOK), a global supplier of telecom network infrastructure equipment, holds a large portfolio of patents that it licenses to other companies in various industries, including smartphone makers. What's Nokia's stock forecast, and is it a good investment?
Article continues below advertisement
In addition to selling telecom gear and licensing its patents, Nokia makes money from its brand licensing arrangement with HMD Global. In 2014, Nokia sold its phone-making business to Microsoft. It got back to the phone business in 2016, albeit indirectly, working with partners to produce Nokia-branded phones. Currently, HMD Global holds the rights to Nokia-brand phones, and Nokia receives royalty payments in that arrangement.
Nokia reports strong earnings and resumes dividends and buybacks
Nokia reported strong earnings for 2021's fourth quarter and that full year as cost-cutting efforts paid off and the company won more 5G business. In Q4 2021, its adjusted operating profit of 908 million euros surpassed analysts' estimate of 822 million euros.
Article continues below advertisement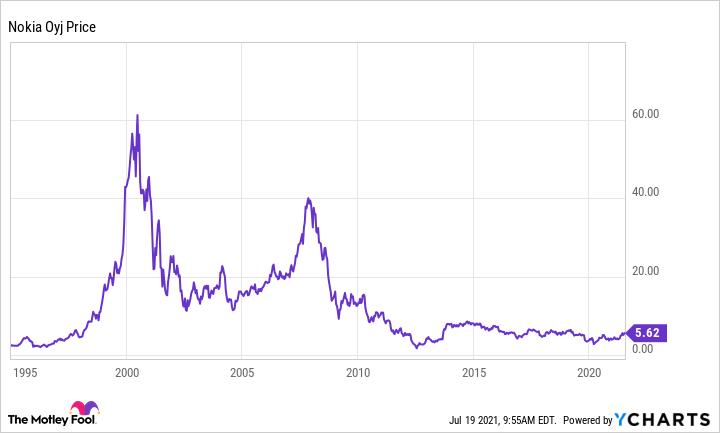 In 2021, Nokia's revenue jumped 3 percent to 22.2 billion euros. The company has forecast revenue of 22.6 billion–23.8 billion euros in 2022, compared with analysts' estimate of 23.06 billion euros.
Article continues below advertisement
Nokia has resumed dividends after suspending them in 2019, initially proposing an annual payment of 0.08 euros per share. Additionally, the company has launched a 600 million euro share repurchase program that it plans to execute over the next two years.
Article continues below advertisement
Is Nokia a good investment?
After struggling for years, Nokia is making remarkable progress in the 5G market. The company changed its leadership in 2020, leading to adjustments in Nokia's business strategy. The new management has found ways to cut costs and increase research spending to bolster Nokia's competition in the 5G market and fuel growth.
Orange recently tapped Nokia to supply infrastructure equipment for its standalone 5G network in France. Nokia also stands to benefit from the Huawei ban in many Western markets over Chinese espionage concerns.
Article continues below advertisement
What you need to know about Nokia's stock forecast
Nokia stock has gained about 30 percent over the past year to trade just above $5. Analysts' average price target of $7.54 implies an upside of about 45 percent.
Nokia's stock outlook is subject to a variety of factors, including the success of its recently launched buyback program. The program will reduce the supply of Nokia shares and the resulting scarcity could strengthen demand, lifting the stock. The restart of the dividend program may also draw dividend-seeking investors to NOK stock and propel it higher.
Article continues below advertisement
The Russia-Ukraine conflict may also weigh on Nokia's stock. The company has many customers in Russia, but the sanctions have caused it to stop deliveries to the country. As a result, Nokia may end up generating less revenue than it anticipated in 2022, which could impact its stock price.