Oppo Reno 7 Pro or Xiaomi 11T Pro? If you have Rs. 40,000 to spend on a smartphone right now, chances are that these two names could be on top of your list. Two brand new Android flagship killers that offer top-notch experiences. The Oppo Reno 7 Pro has been getting attention due to its special camera hardware, a bold new design, and enough performance inside to keep running things smoothly. At Rs. 40,000, it seems it cannot get any better.
However, Xiaomi has a different idea of a Rs. 40,000 flagship killer and hence, it launched the Xiaomi 11T Pro almost a month ago. We reviewed the phone and were left highly impressed with its overall user experience, especially the gaming performance from its Snapdragon 888 chip. The phone also raised eyebrows with its 120W fast charging solution.
Hence, if you have to choose between these two phones, which one should you pick at the moment? Since we reviewed both of them, we can tell you which one is the better option.
Oppo Reno 7 Pro vs Xiaomi 11T Pro
Design
Share Via
This is a subjective parameter but it is the Oppo Reno 7 Pro that is surely the most striking looking phone here. With its iPhone 13-inspired boxy design theme and the fancy rear glass, the Reno 7 Pro commands attention unlike any other phone. Helping it is the LED notification lighting around the camera hump, which is another standout element. The Xiaomi 11T Pro looks simpler in comparison and despite its fancy gradient colour schemes, it doesn't stand out as boldly as the Oppo.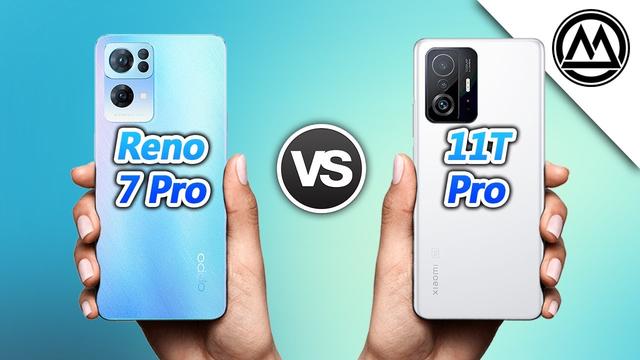 Display
While the Reno 7 Pro looks better, it is the Xiaomi 11T Pro that has a superior display. You get a massive 6.67-inch 10-bit AMOLED display with a refresh rate of 120Hz. The Reno 7 Pro gets a smaller 6.5-inch FHD+ display with an unspecified AMOLED panel that only refreshes at 90Hz. Movie and web show lovers should go for the Xiaomi 11T Pro.
Performance
Share Via
Another area where the Xiaomi 11T Pro towers the Oppo Reno 7 Pro. The Snapdragon 888 is plainly faster and more capable at handling games as well as most demanding stuff with ease on the Xiaomi 11T Pro. Plus, it gets a well optimised MIUI 12.5 experience with Android 11 onboard. Xiaomi says the phone will get three OS upgrades and four years of security patches.
The Reno 7 Pro relies on the less powerful yet still mighty capable MediaTek Dimensity 1200 Max chipset. Paired with ColorOS 12 based on Android 11, this is a phone that can handle most regular tasks with ease. It can do gaming nicely too, although the overall performance capability is a notch below the Xiaomi. ColorOS 12, however, is riddled with bloatware and adware, something where the MIUI 12.5 interface shines.
The Xiaomi 11T Pro also takes the lead with its dedicated dual speaker setup that offers loud and quality audio with a good low-end grunt. The Reno 7 Pro also has stereo speakers but the output isn't as loud.
Cameras
This is where the Reno 7 Pro shines again. The 50MP Sony IMX766 sensor is tuned superbly for details, clarity, high dynamic range and stellar low light photography as well as videography. The ultra-wide camera is decent too but its macro mode doesn't impress. The 32MP IMX709 front camera is currently one of the best selfie cameras you can find on a smartphone.
Share Via
The Xiaomi 11T Pro has good cameras too but its 108MP camera can't reproduce the same levels of details and colour profile as the Reno 7 Pro, in both day and night. The 5MP macro camera is in a class of its own with splendid image quality and sharpness. The selfie camera is decent too. The lack of OIS is a bummer and the EIS can't keep the video footage stable enough.
Battery
This here is a mixed bag. The Reno 7 Pro has a slower 65W wired charging solution on offer but its battery life can easily last an entire day, and leave some for the next day. The Xiaomi 11T Pro depletes its battery faster and can barely last an entire day with rigorous use. However, its 120W charging system fills up the battery in 20-25 minutes.
Price
The Oppo Reno 7 Pro come in only a single variant costing Rs. 39,999. This variant offers 12GB RAM and 256GB storage.
The Xiaomi 11T Pro starts at Rs. 39,999 for its base variant with 8GB RAM and 128GB storage. For Rs. 41,999, you get 8GB RAM and 256GB storage. The top-end 12GB/256GB variant will set you back by Rs. 43,999.
Verdict
Share Via
After going through key parameters, it seems that both the Xiaomi 11T Pro and Oppo Reno 7 Pro are evenly matched. Both are phones made for two entirely different kinds of people.
The Oppo Reno 7 Pro is clearly the top recommendation for those seeking great cameras, good battery life, and a stylish design. The Xiaomi 11T Pro, on the other hand, is for those who want high-end gaming performance, a stellar display, superb speakers, and a very fast charging solution. The Xiaomi 11T Pro is our pick, since it is closer to most Android flagships.