The shares of T-Mobile US Inc (NASDAQ: TMUS) have received a $185 price target from Tigress Financial. And Tigress Financial Partners analyst Ivan Feinseth initiated coverage on T-Mobile US with a "Buy" rating.
Feinseth had initiated research coverage on the company based on the belief that its strong execution and growth momentum continuing to accelerate in 2022, driven by the ongoing growing demand for high-speed network connectivity.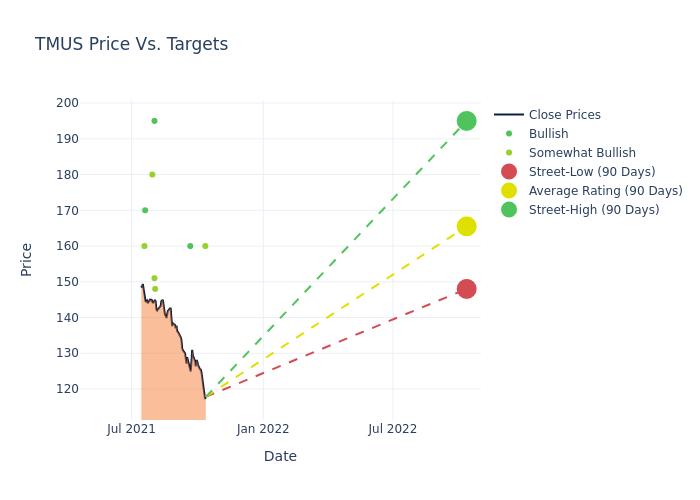 "TMUS is well-positioned to benefit from accelerating trends in Cloud and Edge computing, increasing consumer demand for high-speed connectivity, and ongoing integration of the IoT and the Metaverse, as they will all continue to drive increasing demand for high-speed 5G wireless connectivity. TMUS is also the dominant service provider to Android OS-enabled smartphones, the largest deployed smartphone operating system. TMUS continues to experience strong growth momentum driven by record customer and service revenue growth," wrote Feinseth in a research note.
Recently, T-Mobile reported strong fourth-quarter results. T-Mobile reported its EBITDA increased by 9.6% to $6.3 billion, matching the analyst consensus. And as for FY2022, the company expects EBITDA to rise by 10% to roughly $29.61 billion, compared to a consensus of $28.18 billion.
In the quarter that ended December 31, T-Mobile had reported adjusted EPS of $0.34 on revenue growth of 2% to $20.78 billion, compares to consensus estimates of adjusted EPS of $0.18 on revenue of $21.07 billion. During the year-ago quarter, T-Mobile reported an EPS of $0.60 and $20.3 billion in revenue.
"Ongoing acceleration in Business Performance trends will drive an increasing Return on Capital, leading to significant gains in Economic Profit and long-term shareholder value creation. We believe further upside in the shares exists, and our 12-month target price of $185 represents a potential return of nearly 50% from current levels," added Feinseth.
Disclaimer: This content is intended for informational purposes. Before making any investment, you should do your own analysis.
Trending on Pulse 2.0