The art of scoring a decent mobile phone deal can be a tricky skill to master. Aside from twiddling your thumbs until the next big sales event arrives (like Afterpay Day), the best time to nab yourself a new phone is when there's an updated model on the horizon.
Most retailers love to give you an incentive to upgrade your current phone, whether that's by offering a bonus gift or by knocking off a hundred dollars or so.
If you'd prefer to save a few extra bucks, it's a good idea to shop the previous model, as it's usually $100-$200 cheaper than the new model. There's often not a huge difference between the two; the newer one might have a better camera or different design, but its predecessor will still be a brand new phone and much better than what you're currently scrolling on.
To sum it up, the new Apple iPhone 13 is on sale while there's a handful of great Telstra and Optus plans that are offering a special deal, where you can receive a free gift if you sign up to one of their 24-month phone plans.
Here's some of the best mobile phone deals we've spotted.
Top deals on iPhone and Samsung mobile phones
The Apple iPhone 13 is on sale for up to $100 off
The iPhone 13 is the latest Apple phone on the block and it's on sale already. While the new iPhone starts from a RRP of $1,248, Amazon Australia have knocked $100 off their stock, so you can grab it at a discounted price.
The new iPhone 13 comes in five unique, metallic finishes, with a vivid OLED display and ceramic shield front. It's ideal for those who prioritise a good camera on their phone. Snap-happy users will appreciate its wide and ultra-wide camera mode plus its sensor-shift image stabilisation. In our review, we found that it's practically impossible for you to take a bad photo.
The iPhone 13 possesses the biggest boost in battery life you've seen in a while, claiming it can last up to 19 hours of video playback on a single charge. Mobile gamers will also appreciate its A15 bionic chip, so you can load app graphics faster and more efficiently.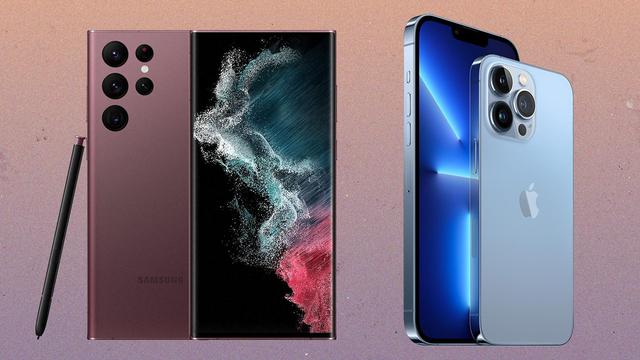 Take your pick from the iPhone 13 deals below:
Enjoy up to $200 off on the Apple iPhone 12
The predecessor to the iPhone 13 is currently on sale for $200 off. It sports a 6.1-inch screen with Ceramic Shield protection for four times better drop performance, compared to older models. It has the previous generation A14 bionic chip in comparison to the iPhone 13, but it's still just as efficient with a great for battery life. We were pretty chuffed in our review of its chip, so you can read our full thoughts here.
Admittedly, the battery life isn't quite as long-lasting as the iPhone 13, with just 17 hours of video playback, but that's only a two-hour difference. It also supports MagSafe charging, so you can grab a magnetic case, wallet or charger and swap it as you need.
You can explore the top iPhone deals we've found below:
Samsung Galaxy Fold 3 — save $500
The Samsung Galaxy Fold 3 is a bit of a niche device, in that it's best suited to creatives or professionals who love to work on the go.
More compact than a tablet, but much wider than the average smartphone screen, a Galaxy Fold is ideal for sketching, taking notes and even gaming. Since it's S Pen compatible, it's a step up from the classic Galaxy Note with the added bonus of being able to fold it in half and slip it inside your pocket.
Amazon is offering a wicked deal of $502 off its RRP, bringing the Samsung Galaxy Fold 3 (both the 256GB and 512GB models) all the way down to $1,997 and $2,147 respectively.
Shop it here.
Samsung Galaxy S20FE — save $152
Now that the new Samsung Galaxy S21 Fan Edition (FE) is in our pretty little hands, the much-loved S20 FE model has now dropped in price. Over here at Gizmodo Australia, we're big fans of the Fan Editions, since they offer most of the features the S21 has, but at a more affordable price.
Not only does the S20 FE sport a seriously underrated camera, but it packs a long-lasting battery life and still offers features like wireless charging that make it feel like a more expensive model than it is.
You can grab one here for $697 (down from $849), which is $152 in savings.
Telstra 24-month Samsung Galaxy plan deals
If you sign up with one of Telstra's 24-month Samsung Galaxy plans, you'll receive a free pair of Galaxy Buds Live when you order before March 28. Considering a pair of Galaxy Buds Live sell for a RRP of $249, it's quite a steal when you go on a plan.
Check out Telstra's phone plan deals below:
Samsung Galaxy S22 plans (128GB)
Samsung Galaxy S22+ plans (128GB)
Samsung Galaxy S22 Ultra plans (128GB)
Optus 24-month Samsung Galaxy S22 plan deals
If you decide to go with a Galaxy S22 plan through Optus instead, you'll receive a Galaxy Watch 4, valued at $339. This offer will end on April 30, so you've got some time to mull over which version of the S22 you're keen on grabbing.
Explore a range of Optus phone plan deals below:
Samsung Galaxy S22 plans (128GB)
Samsung Galaxy S22+ plans (128GB)
Samsung Galaxy S22 Ultra plans (128GB)