THE influence of YouTubers, vloggers, and even TikTokers is at an all-time high, and there is no denying how YouTube has formed an important part of the appeal to children and young people. It's also become quite a lucrative career that even famous celebrities have created their channels and have started vlogging.
If you think you have something interesting to share and want to start your vlog, the good news is you probably already have 50 percent of the equipment you need to start—your mobile phone.
Unlike before when you had to invest in an expensive camera, a lot of vloggers started using only their smartphones to create quality content that can be shared socially.
As long as you have a smartphone that has a good camera and can shoot HD video, you already have an accessible video production solution that is always with you whenever you feel like vlogging—and as any professional vlogger would tell you, uploading content consistently is key to growing your audience
One of the most recent smartphones I've tried and could recommend for aspiring vloggers is the Vivo V23e 5G. It might not have the much-talked-about color-changing back of the V23 5G, but it still has a set of capable cameras and a more affordable price tag.
It's been a while since I reviewed a Vivo phone, the last one being the Vivo x21, which I'm pretty sure was way before this whole pandemic started. I remember it for two things—the sleek design and its selfie camera. The Vivo V23e 5G, the brand's latest mid-ranger, continues that selfie-centric purpose with a stunning colorway that impresses.
The color I have is called Sunshine Coast, a combination of the color names of the V23 5G—Sunshine Gold that turns into Coast Green when hit by light. It's got to be one of the nicest color finishes I've seen.
It turns blue, pink, white, gold, green depending on how the light hits it. The matte finish also does a good job of hiding the fingerprints so you don't have to worry about having to wipe them off constantly.
As for the design and build, the side bezels are fairly slim, but the forehead and chin are a bit thick and don't go well with the rest of the sleek design of the V23e. The phone has an ultra-slim body measuring only 7.32mm thick paired with a flat middle frame. According to Vivo, the back panel adopts Fluorite AG Coating for a fuller and finer texture than regular AG glass. This creates a softer light diffusion, repels fingerprints and smudges, and makes the phone look more elegant and more comfortable to touch.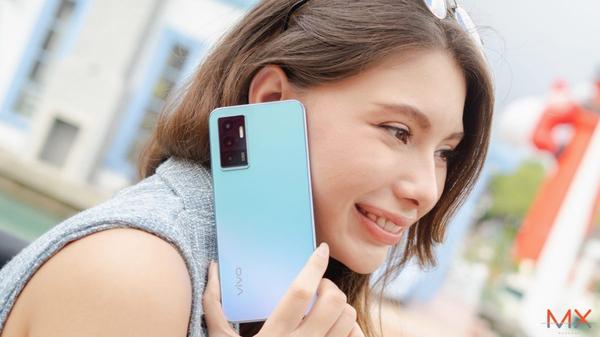 The V23e has a 6.44-inch AMOLED display with a FHD+ resolution of 2400×1080. The screen is sharp, and vibrant making it great for watching video from YouTube or Netflix, etc., or for editing your own content.
Vivo was the one who pioneered the under-display fingerprint scanner to the market so as expected, it's fast and accurate. However, the placement is way below the display so you have to reach down making your grip slightly awkward.
As for the sound quality, the v23e 5G only has a single loudspeaker, so while volume is loud enough, it sounds tinny and lacks bass. So if you are a bit particular about sound quality, you better use earphones instead.
Now for the most important feature of the V23e 5G—its cameras. It has a powerful triple-rear camera array with a 50MP main camera with Ultra Stabilization, flanked by two secondary cameras: an 8MP super wide-angle lens with a 120-degree field-of-view, and a 2MP macro camera, handling shots that range from expansive natural landscapes to tiny worlds that aren't always visible.
Thanks to an accurate gyroscope and EIS algorithms, the rear camera of Vivo V23e 5G can intelligently analyze shakes and vibrations caused by walking or other movement, and stabilize the videos and images, reducing blurriness and improving sharpness. This is helpful when you are doing travel vlogs, or when you are recording while walking around.For vloggers, one mode you should try is Dual view. It lets you capture both yourself and your subject behind the camera simultaneously which is nice for capturing those priceless reactions you wouldn't want to miss out. You can change the shape of the floating window to either square, circle, or heart, adjust the position, and switch cameras.
Another video feature I liked is Steadiface Selfie Video. Turn this mode on and you will always be in the center of the frame via an algorithm that locates the face and crops the photos accordingly. Unlike conventional EIS where cropping happens randomly, the Steadiface Selfie Video mode makes a difference by keeping the user still and adjusting the rest of the scene.
The Vivo V23e 5G can shoot up to 1080p and 60fps, which is enough for vlogging, but a 4K mode would have been even better.
The Vivo V23e 5G features a high-resolution 44MP front camera, which excels in taking selfies achieving significantly higher sharpness in good lighting conditions. Even when zoomed-in or cropped, selfies retain plenty of details, and facial features such as eyebrows and eyelashes will always be clear.
Unique to this smartphone is the eye autofocus feature. Since eyes are the first thing that people notice in a photo, the Eye Autofocus feature automatically locks and maintains focus on people's eyes, even if they are moving.
This Vivo V23e is powered by the MediaTek Dimensity 810 processor that supports 5G connectivity. In normal day-to-day real-life situations, the phone handled all my usual multitasking tasks (e-mail, web browsing, social media, messaging apps, calls, light gaming) and I was able to run multiple apps at the same time with no noticeable hiccups thanks to its 8GB RAM.
Keeping everything running is a 4050mAh battery that supports 44W FlashCharge. Vivo said you can charge up from 1 percent to 40 percent in just 15 minutes. In our tests, fully charging the phone takes around an hour.