Azuri has come out with its new range of screen protectors and cases for the Samsung Galaxy S10 trio, never mind that the phones themselves are still a month away from going official.
There's some confusion going on, however. There's a case Galaxy S10 Mini, which we assume is the "lite" phone. But there's also a bumper case for the Galaxy S10 E.
Screen protectors: Galaxy S10 E • Galaxy S10 • Galaxy S10 Plus
Both of them are shown with four cameras on the rear, which is almost certainly wrong. It looks like Azuri just used the same back image for all three S10 models (even though fewer cameras should mean a smaller opening on the back).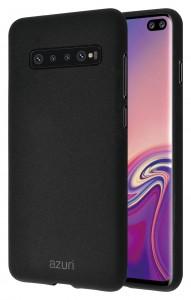 Anyway, there's also the Samsung Galaxy S10+, which sports dual selfie cameras on the Infinity O screen. Curved screen, mind you. The Galaxy S10 Lite/E/Mini is getting a flat screen protector.
Cases: Galaxy S10 E • Galaxy S10 • Galaxy S10 Plus
Also, here are the Book cover case (check out the 3.5mm headphone jack on the bottom).
Book covers: Galaxy S10 E • Galaxy S10 • Galaxy S10 Plus
Azuri clearly jumped the gun when it published these cases and there are some mistakes in the data – the naming and the camera count. But you can also find a Nokia 9 case on that site, so waiting is clearly not Azuri's strong suit.
Thanks for sending this in, ilogical!
Source