Samsung released the Galaxy S21 FE globally earlier this week. The new Fan Edition smartphone has an IP68 dust and water resistance rating, but unlike Samsung's more premium devices, it rocks a polycarbonate back panel. The latter material isn't exotic or very exciting, but in theory, it should make the Galaxy S21 FE more resilient than other glass-clad Galaxy phones.
Customers that don't want to put said theory to the test and wish to keep their Galaxy S21 FE in good shape have tons of 1st and 3rd-party protective case options from which to choose. Most of you are probably aware of Samsung's case collection, given that the OEM leaked the complete Galaxy S21 FE 1st-party case portfolio one week before the phone's official unveiling.
However, there are many more options out there from countless brands. Perhaps too many options, to the point where it might create confusion. With that in mind, we set out to find the best Galaxy S21 FE protective cases on the market right now, Samsung-made or otherwise, and at different price points. So, if you're looking for inspiration as to what Galaxy S21 FE cases you should be buying, look no further.
Samsung Galaxy S21 FE "Clear" case collection
Starting the list with a simple and inexpensive solution, the Samsung Galaxy S21 FE Clear Cover offers basic protection without taking away too much from the phone's exterior design. It's the iconic slim silicone cover case with no bells and whistles, and it's available for $19.99.
Customers that may be expecting a bit more from a case can pay $29.99 and pick the Galaxy S21 FE Clear Slim Strap Cover or the Clear Standing Cover.
The Clear Slim Strap Cover is identical to the Clear Cover, except it has a strap that offers a more comfortable grip. Meanwhile, the Clear Standing Cover offers a kickstand instead of a strap and features a ridged design with a more prominent chin for the display.
Galaxy S21 FE Silicone Cover with Strap
The Galaxy S21 FE Silicone Cover with Strap costs $39.99 and is available in a couple of color options. One of the more appealing characteristics of this case is that the strap is interchangeable with Galaxy Z Flip 3 Silicone Covers. Customers can buy additional strap designs separately for $19.99 a pop.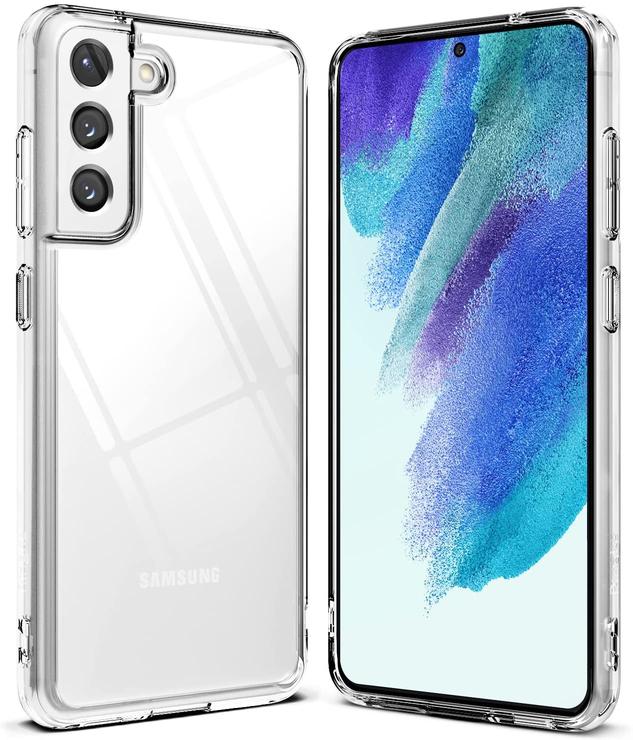 Galaxy S21 FE S View Cover
The S View Cover is one of Samsung's most iconic case designs, and since it's available for the Galaxy S21 FE, we had to include it in our list.
The Galaxy S21 FE S View Cover costs $49.99 and is available in four color options: black, white, lavender, and olive. It features a book-like design with a display cover and a narrow window that works in conjunction with your phone's Always-On-Display technology to show notifications and other bits of information at a glance.
Galaxy S21 FE Ringke Fusion case
Moving on to third-party cases, the Ringke Fusion is an alternative to Samsung's Clear Cover, in that it's a low-cost solution that doesn't change the look of the phone too much. It's available for $12.99 at Amazon, and there's also a Matte Clear variant for $13.99.
Galaxy S21 FE Ringke Onyx case
Available for $12.99, the Galaxy S21 FE Ringke Onyx case has an anti-fingerprint coating and offers a comfortable grip as well as shock protection. It's available in three colors: black, dark green, and purple.
Galaxy S21 FE Spigen Rugged Armor case
Next up is the Spigen Rugged Armor case for the Galaxy S21 FE. It offers a unique design that combines carbon fiber, thermoplastic, and polyurethane elements. It provides shock absorption thanks to Air Cushion technology. It's available at Amazon for $15.99.
Galaxy S21 FE Caseology Nano Pop Silicone Case
Speaking of unique designs, the Caseology Nano Pop Silicone Case certainly changes the design of the Galaxy S21 FE without going overboard. It covers the camera housing and gives the triple camera setup a different look. It's available for $15.99 – $16.99 in three dual-tone color options: Black Sesame, Blueberry Navy, and Light Violet.
Galaxy S21 FE Renmou Case
Combining a ring, a kickstand, and a 360-degree magnetic holder in a single package, the Renmou Case for the Galaxy S21 FE also promises military-grade shock proofing for just $14.99. The case is available in black or blue ($15.99).
Galaxy S21 FE Wallet Case with card holder
Similar to the Renmou Case, the Galaxy S21 FE Wallet Case combines a magnetic backplate — for car mounts — with a ring and a kickstand. But, in addition to these features and a rugged design, it also features a credit-card-sized compartment.
The Galaxy S21 FE Wallet Case is usually available for $14.99 in multiple color options. But as of this writing, the blue model is sold at a 52% discount for $9.99.
Galaxy S21 FE CaseBorne ArmadilloTek V
Perhaps one of the most industrial-looking Galaxy S21 FE cases on this list, the CaseBorne ArmadilloTek V is equipped with a kickstand and enough protective material to provide incredible shock protection. It was tested to survive drop tests at up to 21 feet (~6.4 meters), and it exceeds MIL-STD 810G 516.6 military drop-test standards.
The Galaxy S21 FE CaseBorne ArmadilloTek V is available in four color options for the starting price of $21.98.
Galaxy S21 FE Clayco Xenon Case
Last but not least, the Clayco Xenon Case for the Galaxy S21 FE seems to be a great choice for customers that are looking for full-body protection. The Clayco Xenon comprises a case made with hard polycarbonate and shock-absorbent TPU materials and a second component that covers the entirety of the display while retaining the functionality of the fingerprint scanner. It's available for $12.99.
The Galaxy S21 FE is equipped with a 6.4-inch Dynamic AMOLED 2X 120Hz display, a Snapdragon 888 / Exynos 2100 chipset, 6/8GB of RAM, 128/256GB of built-in storage, and a 4,500mAh battery. Check our full review below if you want to find out how it all comes together.
Galaxy S21 FE review
Join SamMobile's Telegram group and subscribe to our YouTube channel to get instant news updates and in-depth reviews of Samsung devices. You can also subscribe to get updates from us on Google News and follow us on Twitter.