Continuing on with the trend of predominantly smartphone companies entering the PC space with laptop offerings, the Infinix InBook X1 Pro is easy to impress. Considering the price point and the specs on offer, the laptops come across as excellent value for money, but they're not without some compromises. The biggest of them all is that the entire lineup is powered by the rapidly ageing Intel 10th Gen processors, but is that really a deterrent for everyday use? Let's find out —
Specs and Features
The Infinix InBook X1 Pro comes in three performance variants, powered by Core i3, Core i5 and Core i7 processors. Notably, these are 10th gen Intel processors, belonging to the G-series meant for low-power ultrabooks. All except the top variant feature 8GB LPDDR4X RAM and 65W fast charging using USB-C cable. The base variant features 256GB storage, while the other two variant comes with 512GB storage, all PCIe 3.0 variety. The display, keyboard and trackpad are the same across all configs, only the Core i7 variant gets an additional fingerprint sensor. It also adds all the necessary ports, something that the budget RealmeBook skips on, along with a metal chassis and integrated webcam.
As far as the spec-sheet goes, the InBook X1 Pro feels grossly undervalued and could be the dark horse the market needed at this hour.
Performance and Cooling
As mentioned earlier, the Infinix InBook X1 Pro lineup is powered by 10th Gen Intel processors combined with M.2 SSD storage and LPDDR4X RAM. The cheapest in the lineup runs on the G-series 10th Gen Core i3 meant for low-power ultrabooks, while the most expensive is powered by the Core i7 1065G7. We got the latter for review, and off the hook, it feels like a decent entry-level laptop. It's hard to find a Core i7 laptop under Rs 60,000 in India anyway, so either way, the InBook X1 Pro would be an attractive option to consider. Add to that the fact that it comes with Windows 11 out of the box.
As far as raw performance goes, the Core i7 InBook X1 Pro will easily power you through the usual daily tasks of checking and replying to emails, researching information, working on office docs and attending online classes. This particular variant features 16GB RAM, which is plenty for regular use. During a typical session, the RAM usage varied anywhere between 70-80% of the total capacity, leaving enough buffer for things to scale up if needed. As a result, the laptop hardly ever got stuck in a window. However, it doesn't give the smoothest Windows 11 experience. Sometimes, the File Explorer will take a second extra to open, Search takes a bit of time to find an app, and the likes. But as far using the browser for web browsing, or watching an episode on an OTT platform, the laptop works just fine. I could also easily work on my spreadsheets and Word docs without a hitch, but anything a little powerful like Adobe Lightroom and Photoshop struggled to work smoothly.
That's expected considering this is a low-power ultrabook CPU that, till the 10th generation, was mostly meant for office work. The H-series chips are for creative workloads, so can't hold Infinix to blame here for lack of power usage. Having said that, I had more than dozen tabs open on Firefox, including one with video playing, and I had no problem launching other programs.
If you want to know just how much behind you will be in terms of performance as compared to the 11th Gen laptops, here are the benchmark scores as compared to its closest competition, most of which are powered by next-gen Core i5 or Core i3 processors —
Interestingly, there isn't a clear gap in performance in synthetic benchmarks, indicating the Core i7 InBook X1 Pro is actually quite competitive against the 11th Gen Core i3 and Core i5 laptops available in this price range, and for the use cases it's made for, 10th Gen processors would work just fine, and shouldn't be a bottleneck.
The laptop's not designed for playing games, but the Core i7 variant did handle a few rounds of CS:GO at medium graphics, so college students, you guys won't be bored using this.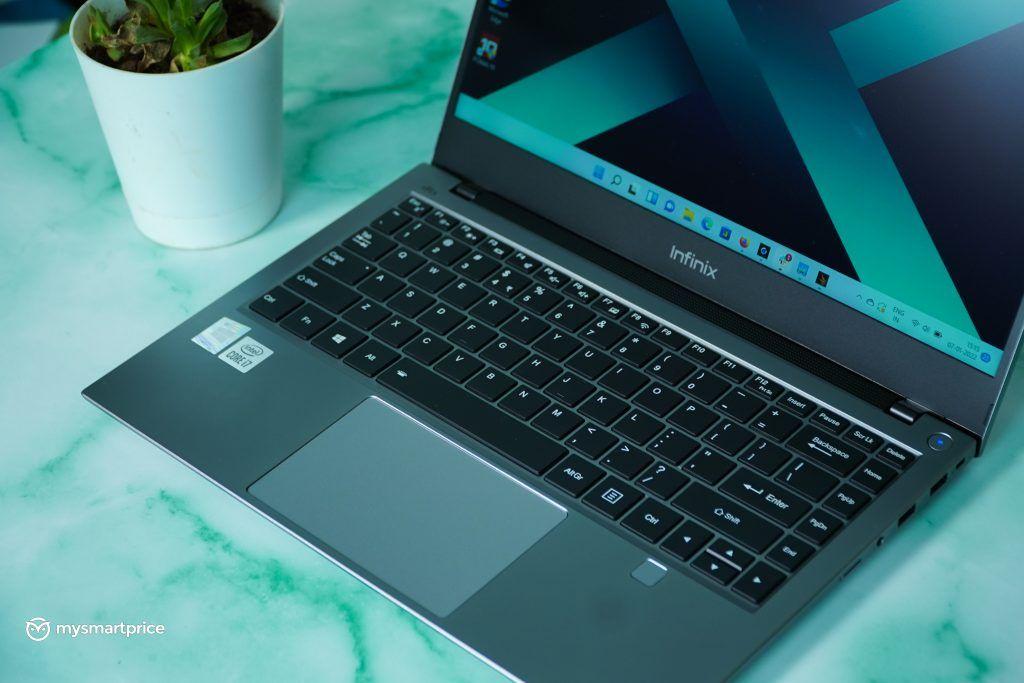 The laptop also stays surprisingly cool with a single-fan cooling system that stays pretty quiet all round.
Display and Audio
The InBook X1 Pro features a 14-inch FullHD display which fulfills the basic requirements of a decent multimedia experience. The screen is rated for just 300nits of brightness, that's good enough to work indoors, but not in the sun. The screen has a matte coating that cuts down on reflections, but ends up muting the colours as well. Further, it only has NTSC coverage, and the colour output is far from the rich and vibrant output from the likes of the RealmeBook that features a bright 2K display.
Then again, this is not meant for high-res multimedia consumption. For its use cases that includes attending online meetings, browsing the web, and doing office stuff, it's perfectly fine. It's not like you can't watch a video on this, just that your phone screen would probably be lot more bright and vibrant.
The audio output comes from a quad-speaker array tuned with DTS audio. It's loud enough for meetings and dialogues in movies, and there's sufficient sound separation, even though the decibel levels are inadequate for noisy environments. It's usable if you're in a quiet place, but not so much otherwise. It does come with a 3.5mm headphone jack, as well as Bluetooth to pair your audio gear.
Keyboard and Trackpad
On the surface, the X1 Pro's keyboard and trackpad look professional. The keyboard is backlit with anti-slip rubber coating on the keycaps, arranged with sufficient space in between them for a comfortable typing experience. But the keys themselves are squeaky with non-uniform travel. Some keys would press deeper and quicker, while some would be stiff and get stuck. It's likely that after prolonged use, the keyboard would be the first to give up, needing a trip to the service center.
The trackpad is good enough for the price, but if you have used an expensive laptop with a good trackpad, this one would be hard to use. It's functional in the sense that it's large enough for the size, with the bottom edges serving as a click buttons. But, there's resistance to your fingers, the tracking is not fully accurate and there would be multiple breaks while drag and dropping.
Clearly, this is where the compromises are made in order to serve Core i7 performance under Rs 60k dressed in what is perhaps one of the most attractive laptop designs in this price range.
Design and Build
Yes, the Infinix InBook X1 Pro is instantly likeable. I'm not sure if the company would be selling this offline, but it deserves to be shown off in posh tech stores. The laptop is housed in an anodized metal body with three colourways on offer — Red, grey and green. All three of look sexy, but I had a weakness for the red variant. The lid, made of aluminum has a dual-tone finish, with the Infinix logo etched non-intrusively. The lid is a bit stiff, but does open up one-handed, which is impressive for a first-time laptop manufacturer.
Even the chassis is made of metal and there's plenty of space to rest your palm. The power button is kept separate from the keyboard, so there's no accidental shut downs, and there's a fingerprint sensor near the trackpad. (present only in the Core i7 variant). The bezels on the sides are quite thin, but there's plenty of it at the top and bottom to counter it. There's a built-in webcam that's quite basic, and will just about do for an office meeting, but not if you're attending something official.
Ports1 of 2
There's also a good choice of ports. Two USB-C, two USB 3.0, one USB 2.0, HDMI 1.4, microSD slot, 3.5mm headphone jack and also a DC-in port, even though it comes with a USB-C charger out of the box.
In all, Infinix gives you little to complain about the design and build quality of the laptop. It's built to last, but things you use the most — the keyboard and trackpad could have been of better quality.
Battery Life
Apart from a metal body, another thing premium in all the InBook X1 Pro variants is the support for 65W fast charging. It features a portable USB PD 65W Type-C charger that tops up 70% of the battery in around an hour. The battery itself is bigger than usual. Infinix packed a 55Whr battery that lasts a decent 4-5 hours at full brightness while browsing and listening to music on loudspeaker. Battery life would have been a problem, but the ability to fast charge it doesn't make it feel too much of a compromise. Heck, even the Xiaomi 30000mAh power bank managed to charge the laptop.
Should You Buy the Infinix InBook X1 Pro?
The Infinix InBook X1 Pro is far from the perfect laptop with a few inconsistencies and compromises, but discount the fact that it's their first attempt, and the laptop feels like a sensible offering for the price it's offered at. The performance is adequate for students and basic office use, and the design feels premium and stylish.
The keyboard and trackpad, on the other hand, are strictly average and the display is the bare minimum. So in all, the Infinix InBook X1 Pro isn't the all-rounder it's billed as, but it's got its heart at the right place. The performance was never an issue, and you'll be hard-pressed to find the same set of features in another laptop at this price.
Infinix InBook X1 Pro
0.005.8
Design and Build
7.2/10
Keyboard and Trackpad
5.0/10
Display
5.1/10
Ports and I/O
6.3/10
CPU Performance
7.3/10
GPU Performance
0.0/10
Storage
5.5/10
Day-to-Day Usage
6.0/10
Battery Life
5.5/10
Value For Money
10.0/10
What Is Good?
What Is Bad?
Thanks for reading till the end of this article. For more such informative and exclusive tech content, like our Facebook page