Xiaomi is known to promote its software with equal vigor to smartphone releases. After all, MIUI is one of the feature-rich Android skins one can experience in the Android world, and they seem pretty proud of it.
As such, its users have grown to understand that almost every new update brings something new to the table. Everyone is a fan of new features, which explains the excitement among users whenever a new update is now announced.
There is one annoying issue, however, that frequently ruins the excitement users have for software releases. It is related to updates themselves and a few reports [1, 2, 3, 4, 5, 6, 7, 8, 9] about it have been given below.
I got an update notification of miui 12.5.1 for my Redmi note 9s but few hours later when I wanted to download the update, it disappeared. I want to know whySource
I saw in the morning that my Redmi 9 (India/global) could update but I didn't have access to good wifi at that time so I waited until later to update but now I can't find the update the update icon is goneSource
As clear from the above reports, newly released updates keep disappearing for Xiaomi, Poco, and Redmi device owners if they're left for some time, despite the update notification showing up.
Of course, not everyone is able to update their device as soon as a fresh update arrives. Thus, users find it odd when they gear up for the process after a while only to find the build unavailable on their Updater.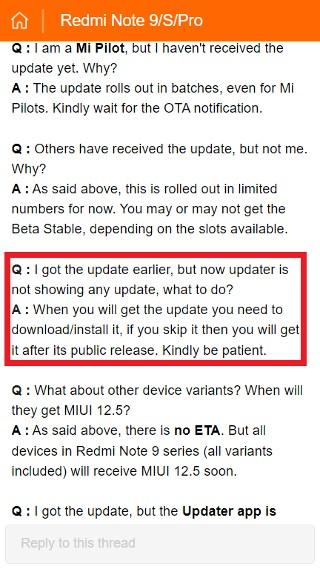 The disappearing update issue isn't exactly new as we have seen reports about it with when MIUI 12 rolled out as well as with newer Android 11 and MIUI 12.5 releases.
So what could be the reason for it? Is the problem an actual bug? Or does Xiaomi have trouble making up its mind when it comes to releasing updates?
Well, as it turns out, it's neither of them. The FAQ section of a forum post on the Mi Community reveals that the random disappearing of MIUI update releases is a deliberate move that's part of Xiaomi's software testing process.
You see, Xiaomi follows a rigorous quality assurance process where a build is first released as a beta, then as a pilot build, followed by a stable beta, before finally making it to the public stable release phase.
If you get an update notification only to see it vanish after a while, then the disappeared update is most certainly a stable beta release.
Stable beta updates are pushed for select users prior to a public release and are usually available for a limited time only. If the few users that are part of the initial rollout report no issues, the same build is then pushed for all.
Occasionally, even a stable update is rolled back owing to bugs that may have slipped under the radar of beta testers. So, that's another explanation.
Thus, next time, if an update vanishes for you, then don't worry, as it will be re-released within a week as stable if it's bugless. And in case it's buggy, then just feel fortunate that you skipped it.
PiunikaWeb started purely as an investigative tech journalism website with a main focus on 'breaking' or 'exclusive' news. In no time, our stories got picked up by the likes of Forbes, Fox News, Gizmodo, TechCrunch, Engadget, The Verge, MacRumors, and many others. Want to know more about us? Head here.