Following the launch of CP Cambodia Co Ltd's latest product innovation – the seven-inch sausage, which was specially introduced to meet growing consumer demand in the local market – the winner of the "CP Sausage Contest 2020" was announced last Saturday.
The agro-industry and food business giant's new sausage comes in several signature flavours – original chicken or pork, chili chicken or pork and cheese chicken or pork.
Weighing a hefty 100g, the sausages are flavoured with some of Cambodia's world-famous spices such as Kampot pepper and star anise, while only natural preservatives are used in its production.
To ensure its success in the Kingdom, Cambodian staff were actively involved in researching and developing the taste of the jumbo sausage.
As part of its campaign to promote the latest product, the company organised the "CP Sausage Contest 2020", which was held between July and September.
Participants were asked to submit either a 15-second video or photos of the seven-inch sausage.
Ten participants walked away with attractive prizes – from a Yamaha X-Ride motorcycle for first place, followed by an iPhone 11 Pro Max. Eight other winners received Oppo F11 Pro smartphones.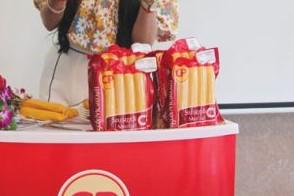 "CP sausages are delicious. I would like to thank CP Cambodia for creating the 'CP Sausage Contest 2020' because it gave an opportunity for the public to compete and win attractive prizes. I hope the company will create more competitions like this in the future," said Phan Sochi, the winner of the second prize.
Third prize winner Sopheak Mungkul said: "I am really happy because this was the first time I took part in such a contest. I would like to thank CP for giving me the opportunity to participate and for giving away such wonderful prizes. I also hope CP will create more delicious sausage flavours."
Another contestant, Heng Sovandara said: "The 'CP Sausage Contest 2020' competition helped me to learn how to create videos, and I am very happy to win a smartphone. I hope CP will organise more competitions so customers can continue to participate and have fun."
CP Cambodia's Chuchod Sapabguy (right) presents a prize to one of the winners.
Thirty-eight year-old Lao Leakena from Phnom Penh's Sen Sok district rode away with the Yamaha X-Ride motorcycle top prize.
Chuchod Sapabguy, deputy department manager of CP Cambodia's Chicken and Food Products Processing Factory, gave away the prizes at a special ceremony on Saturday.
CP Cambodia – a wholly owned subsidiary of Thailand-based conglomerate Charoen Pokphand Foods Public Company Limited – introduced its latest product in July, and it will be sold alongside its other deli meats.
The contest was held to promote a new seven-inch sausage produced by CP Cambodia.
CP Cambodia has been operating in the Kingdom for more than 12 years and is involved in a variety of businesses, including animal feed, animal husbandry, food production and food retail sector.
The company produces healthy foods for consumers of all ages, including the ready-to-eat "CP-Balance" range and the "CPSmart meal" range of vegetarian food, as well as food for elderly people and patients.
CP's products include fresh chicken, sausages, meat patties and hot dogs, all of which are sold at its retail outlets, including Five Star, CP Fresh Mart, Star Coffee and CP Fresh Shop.
All this comes as part of the company's vision to become the "Kitchen of the World", with greater focus put on food production and increased efforts into improving the taste and quality of its food, as well as food safety.