OPPO Reno6 series launched in India recently bringing attractive designs and impressive hardware. The Reno6 and Reno6 Pro smartphones start from around Rs 30,000 and tout attractive camera features along with 5G support and fast charging. OPPO has been at the forefront when it comes to creating quality phones that wow us in terms of design, even if it means offering these phones at a slightly more premium price point compared to the competitors. In our effort to gain a deeper understanding of how OPPO ensures product quality, reliable user experience, and competitive pricing with the Reno6 series, we spoke to OPPO Vice President and R&D Head, Tasleem Arif.
Please elaborate on the physical and technical tests conducted by OPPO for the Reno6 series.
To deliver an industry-leading reliability experience, all our smartphones, including our recently launched Reno6 Series, are subjected to one of the most rigorous testing processes in the industry. Ranging from Drop Tests, Waterproofing Tests, Environment Adaptability Testing, ESD (Electrostatic Discharge) Tests, Temperature Tests, Press Tests to Durability Tests. All these tests are designed to evaluate how the devices will perform during normal day-to-day use.
https://www.91-cdn.com/hub/wp-content/uploads/2021/08/Micro-Drop-Test-Reno6.mp4
To test the water resistance, the Reno6 series was tested underwater at a depth of 20 centimeters for 30 seconds. To test the phone's USB and headphone inputs, USB cables, and headphone jacks were inserted 10,000 times each at varying angles. The USB input was also tested by swinging the device from an attached USB cable 5,000 to 10,000 times using a 3kg force.
With OPPO's Environmental Work Test, this involves storing the phone at a low temperature, from as low as -40°C, to warm conditions at 75°C for 7 days (168 hours)– more than double the industry standard of 3 days (72 hours), The phone is also tested at intense humidity and temperature (95% humidity at 65°C) for 14 days (336 hours), which is also more than double the industry standard of 3 days (72 hours).
https://www.91-cdn.com/hub/wp-content/uploads/2021/08/Enviroment-Work-Test-Reno6.mp4
Not only that, for all our smartphones to withstand day-to-day wear and tear, apart from many technical and mechanical tests, we do tests like sweat and cosmetic tests. Asides from harsh conditions resulting from the external environments, human sweat, and cosmetics left on the phone surface by users could also cause damage to the phone. To test against these potential problems, Reno6 was put through a Sweat Test and a Cosmetics Test.
In the Sweat Test, the phone is tested by wrapping it in a cloth soaked in artificial sweat before placing it in a high temperature and humid environment (50°C and 95% humidity) for 48 hours. After that, the phone was set aside for 24 hours before being examined for normal functionality and signs of corrosion on the device's inner and outer structure. On the Cosmetics Test, the testers applied a selection of cosmetics to the surface of the phone before placing it in a hot and humid environment (50°C and 95% humidity) for 24 hours.
Further, OPPO OTA Lab conducts rigorous tests on the radiation efficiency of the phone's antennas and also on the various network bands, including 5G, to ensure its seamless, trouble-free operability anywhere in the country.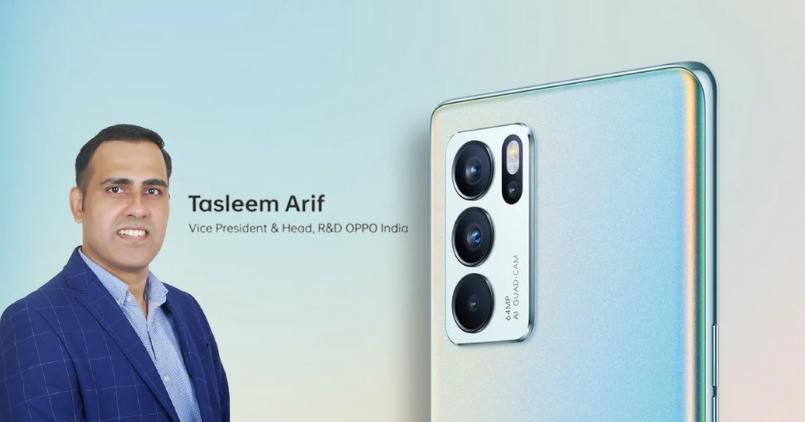 How do OPPO phones ensure a reliable user experience over and above the competition?
OPPO has always taken product quality as a cornerstone of its sustainable, long-term development. From the very beginning of the product development phases up to the mass production process, the QE Reliability Lab set up in our Greater Noida factory is tasked with testing products against the strictest quality standards. This means that OPPO products can only reach consumers if they have successfully passed this rigorous journey of 150 tests.
For instance, our Reno6 series are tested under a range of harsh conditions to ensure that the smartphone is able to hold up to just about any challenge. Therefore the smartphone goes through strenuous rounds of quality tests to prepare for all eventualities through extreme testing processes.
Apart from the tests, what elements are incorporated into the product design and construction to increase the devices' ability to withstand natural wear and tear?
Based on technology research and consumer surveys, OPPO has identified a range of 7.0-8.0mm as the optimal thickness for delivering a better user experience on smartphones. As for weight – readers may be surprised to hear that lighter does not necessarily mean better. In fact, a weight of slightly above 175g is seen as a golden number, giving the user a sense of high quality and durability when they hold it in their hand, without over-burdening them by being too heavy.
A thin, light, and premium body is a staple feature in both the products in Reno6 Series. To assure these, OPPO has continually optimised the use of components and their layout within the device. The result of all these improvements is Reno6 Series devices that can be easily held with just one hand, can fit comfortably into a pocket, and can be used for long periods without feeling tiresome. The unique AG glass used on Reno6 Pro also provides 200% increased hardness and durability of the device.
https://www.91-cdn.com/hub/wp-content/uploads/2021/08/Drop-Test-Reno6.mp4
In addition to its thin and light body, the Reno6 Series has also been designed to offer a better grip. The phone's flat-edged frame and beveled edges also make it extremely comfortable to hold.
In many cases, rival devices offer better specs at lower prices. In such a scenario, do you think OPPO smartphones can justify their pricing based on product quality and reliability alone? Please elaborate.
OPPO's belief in human-centricity ensures that user experience is at the heart of everything it does. While OPPO devotes much of its resources to the research and development of leading technologies that make a meaningful impact on users' lives, the company also never cuts corners when it comes to designing and testing these products according to the strictest standards, as it strives to guarantee a reliable experience for its users. OPPO believes its strength lies in bringing the best user experience to users and claims that it never comes at a compromise for quality.
Our Reno6 series is an all-rounder phone with superior portrait video capability and eye-catching design and super performance.