OPPO F3 captures good selfies and scores high on multitasking, storage and connectivity. However, a snappier processor would have justified the steep price-point.ByRohit|
Chinese smartphone maker OPPO recently expanded its product portfolio with the launch of OPPO F3. As the name suggests, the newly launched smartphone is the smaller variant of OPPO F3 Plus that was launched last month at a price point of Rs. 31,990.
Rating: 3.5/5 PROSCONS
While we usually see the Plus variant of a particular handset at a later stage, OPPO seems to be a bit confused with the product launch cycles. Nevertheless, OPPO F3 is priced at Rs. 19,990 in the Indian market and will be available on Flipkart and through OPPO retail stores in the offline market.
Like its elder sibling, OPPO F3 also features a dual front-facing camera with an ultra-wide lens to capture group selfies. Besides the dual front-facing sensor, the smartphone sports a sleek design, sports a 5.5-inch full HD screen and has 4GB of RAM and 64GB of internal storage.
It seems to be a direct rival of Gionee A1, another selfie centered smartphone launched in March 2017 at Rs.19,999, and the recently launched Vivo V5s priced at Rs. 18,590.
Let's find out what OPPO F3 seems to deliver in the under Rs. 20k price-point with the help of this review.
Camera: Experience the wide-angle selfies in sub Rs. 20k price segment
With the OPPO F3, the company wants the users to experience wide-angle selfies or as we call it these days- group selfies in the sub Rs. 20,000 price segment. OPPO F3's dual front-facing camera features a 16MP primary sensor and an 8MP secondary camera with an ultra-wide angle lens for group selfies.
The 8MP secondary wide-angle camera has a 6P lens, just like the OPPO F3 Plus to give a larger field-of-view and to result in minimal image distortion. The 16MP primary camera has a 1/3-inch sensor and a large f/2.0 aperture. Results are pleasing as the camera captures good detailing and your selfies are bound to get attention on social networking sites.
The image output through the 13MP rear camera is good as long as the pictures are shot in ample lighting. The images look detailed, have good contrast levels and justify the quality considering the handset's price-point.
However, the colours seem to be bit dull or somewhat washed out. I believe camera is not at fault for the same, as the full HD screen is the reason behind the colour shift. Read the display part of the review to find the answer.
Talking about the low-light performance, the 13MP sensor fails to impress. It utilizes an f/2.2 aperture, which is not very good at managing light and thus results in darker and grainy pictures.
Moreover, unlike the 16MP rear camera on the OPPO F3 Plus, the 13MP camera on the F3 can only record videos in1080p resolution and skips the 4k video recording feature.
Coming on to some other aspects, the camera is quite snappy and there's no shutter lag while capturing pictures. OPPO hasn't compromised on the features and you get all the required camera modes and filters. There's screen flash, palm shutter, expert mode (Manual), Ultra HD mode and a variety of filters based on the Beautify 4.0 mode to enhance your selfie experience.
Sadly, the third party app support is still missing and your Snapchat, Instagram or Facebook camera cannot utilize the 8MP wide-angle selfie feature. You have to use the OPPO's stock camera application to get the wide frame.
Overall, the camera experience is decent on the OPPO F3.
Design: It looks premium and feels practical but fails to offer something new
As I mentioned in the first impressions of OPPO F3, the Chinese tech giant really needs to freshen up the design of its handsets. Almost all the OPPO products scattered in multiple price-segments look exactly the same, making it quite tough to differentiate from one another.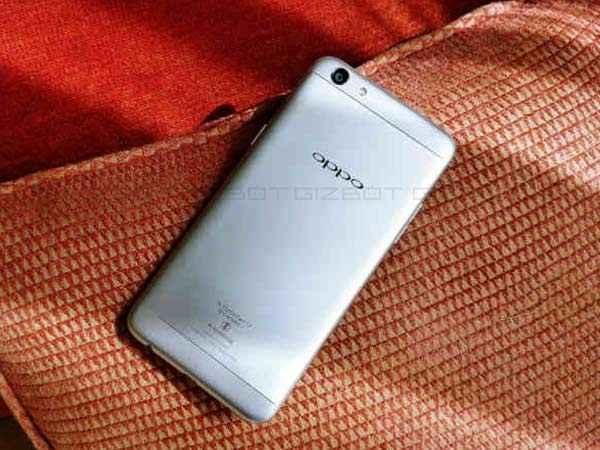 The same can be said for the OPPO F3, which looks just like OPPO's previous handsets and especially its elder sibling- the OPPO F3 Plus. What differentiates the two smartphones is the size difference and the styling of the rear antenna lines.
OPPO F3's rear panel comprises of a mono chrome string placed on top and bottom, whereas OPPO F3 Plus sports a 'Six-String' ultra-fine antenna lines giving it a more urban look. Besides, everything else about the design remains same.
Talking about the in-hand feel, OPPO F3 feels quite ergonomic because of its rounded corners, smooth rear finish and light weight body. It feels amazingly light (153g) in hands for a smartphone flaunting a 5.5-inch screen and is made out of glass and composite metal.
The screen has minimal bezels on either side that measures just 2mm in thickness. The correct placement of physical buttons allows you to easily operate the handset with one hand. OPPO F3 also has a front fingerprint scanner, which as per OPPO comes equipped with a hydrophobic membrane that has an enhanced success rate even when a user's fingers are moist.
While it unlocks the handset in a jiffy, the fingerprint scanner does not always work when your fingers are moist. In our tests, it worked just fine in normal conditions, buy yielded 60 % success rate with moist fingers.
My favorite design feature of OPPO F3 is the dedicated slot for two SIM cards and a microSD card. Resultant, you can have two active SIM cards and one microSD card functional simultaneously, which is quite difficult to find these days. It's a simple hardware feature that other smartphone makers should also implement in their products.
To sum up all, OPPO F3 is a premium looking handset with an ergonomic design with a nifty triple slot SIM card tray. However I really want OPPO to come up with a new design for its smartphones. The current iPhonish design seems kind of dated now.
Display: The Full HD display lacks the spark
I reviewed the OPPO F3 Plus last month and was pleased to see the vibrant 6-inch Full HD screen. It was bright, vivid and delivered a great multimedia experience on a large 6-inch display. Surprisingly, the screen on the smaller OPPO F3 fails to match the vibrant colours of its elder sibling.
SEE ALSO:Oppo named under world's top 3 smartphone's
While the screen offers higher pixel density due to comparatively smaller footprint, the colours somehow does not pop out very well, making the overall viewing experience quite dull.
I compared the colour reproduction of OPPO F3's screen with the OPPO F3 Plus and the Gionee A1, and the difference was quite visible. This might be due to the fact that OPPO has opted for a lower quality screen panel for the OPPO F3 handset to keep the price in check. Gionee A1 has an AMOLED panel and colour output is much better in terms of vividness and contrast.
On the software side, you get the OPPO's standard eye protection mode to filter the blue light that can strain your eyes in low-light condition. The display also gets Corning's latest Gorilla Glass 5 protection to protect it from accidental damages.
Hardware: Good on storage, multitasking but fails to impress in processing and gaming
Multitasking and storage will not be an issue on OPPO F3 as the handset come equipped with 4GB RAM and 64GB ROM with extensible storage up to 128GB via microSD. It is the computing and gaming performance that suffers due to the mediocre 1.5GHz octa-core MediaTek MT6750 chipset.
The processor is good enough to handle everyday tasks such as calling, camera, light gaming, social networking apps, etc. however things start reaching a tipping point when you push the handset to its limits.
For instance, I noticed heating effect while using camera for a bit longer time and editing pictures in Picsart simultaneously. Moreover, OPPO F3 is not the handset I would recommend buyers if they love to play games on their smartphones. The Mali-T860MP2 GPU is just not capable enough to handle graphic intensive games, like the Adreno 510 does in the same price-point.
It is worth mentioning that the Gionee A1 selling at the same price-point packs in a bit snappier Helio P10 chipset. The smartphone also offers a good selfie camera. However, if selfies are not just what you are looking for, the Lenovo Z2 Plus packing in Snapdragon 820 CPU is a great buy at Rs. 14,999.
Multitasking performance was pretty decent on the OPPO F3. The 4GB RAM makes sure multitasking does not suffer in everyday usage.
Software: OPPO F3 still runs the dated Android 6.0 Marshmallow
In the times when you can get some budget smartphones with the latest Android 7.0 Nougat, OPPO is still hanging with the dated Android 6.0 marshmallow. OPPO F3 runs Android 6.0.1 Marshmallow and has company's Color OS V3.0 custom UI skin on top.
The user interface is smooth and apps don't waste time in loading, however unlike OPPO F3 Plus, there's no Google Assistant in the package. The OPPO's custom UI is quite rich in software features. You have the gesture controls, eye-protection mode, a dedicated theme store notably OPPO's app store, which offers selected apps in a variety of categories.
Battery and Connectivity: OPPO F3 skips the company's VOOC fast charging support
OPPO F3 does not really stand out as a smartphone that lasts very long on a single charge. It is backed by a modest 3,200 mAh battery unit that can only last for a day if you are not a heavy user. To make the smartphone pocket friendly, OPPO has also removed the company's VOOC fast charging feature. For connectivity, the smartphone has 4G VoLTE, Bluetooth, GPS, and Wi-Fi.
Verdict
As it always goes with OPPO, the company has once again managed to give another good selfie smartphone that also performs quite well in multitasking and storage department. However, to keep the price in check, the company has made some notable compromises, which holds me back to rank OPPO F3 as the best handset in the sub Rs. 10k price-point.
OPPO F3 tries to offer what OPPO F3 Plus delivers at a lower price-point, and it does manage to achieve the same but mostly in the selfie department. I believe that's the OPPO's mantra here, basically a device that excels in selfie department and offers average performance in other divisions.
If you have the same requirement from a smartphone you want to buy, go for OPPO F3 otherwise the market have other more powerful handsets in the sub Rs. 20k price-point. Choose wisely and let us know if you want to know anything specific about the OPPO F3.
CommentsMost Read Articles